Simple steps to create a marketing plan
Simple steps to create a marketing plan
Branding and Marketing
Hits: 8596
A Marketing Plan is A MUST!
Creating an effective marketing plan is a simple straightforward process but amazingly many marketers sometimes have some problems doing the correct activities that ensures their plan is covering the most essential marketing activities that leads to success. It doesn't matter if you are a small business entrepreneur or responsible for the marketing department of a fortune 500 company, trying to launch a new product or service. Doing the Right marketing activities the right way always starts with creating a good marketing plan.
First step: Clearly understanding your market and competition
Many marketers make the big mistake of falling in love with a product or service without first ensuring there is a real need and consequently a real market for it. They ignore the simple fact that if they try to sell something that people don't want, they simply will not buy it.
A profitable market consists of people who have unmet needs that are ready to rush and buy your product or service if it fulfills that need. It is that simple. A profitable market is a lake full of hungry fish and all you need to do is throw in your bait and it turns into a feeding frenzy.

Getting a complete understanding of your market and ensuring there is a genuine need for your product and service requires that you have full answers to the following questions :
• Are there segments in my market that are being underserved?
• Are the segments of my market for my product or service big enough to make money?
• How much of a share of that market do I need to capture, to just break even?
• Is there too much competition in the segment of my market to be competitive?
• What are the weaknesses in my competition's offering that I can capitalize on?
• Does my market want or value my unique competitive offering?
Once you have complete answers to the above clarifying questions and you are confident that there really is a need for what you are offering and there is good potential then you are definitely off to a good start and have completed the first but one of the most important steps in creating your marketing plan that can ensure your success.
Second Step: Knowing and understanding your customer

The below list of questions will help you get a clearer picture of who exactly is your customer, who are those people you will need to reach and let them know what you have to offer. This is an essential step in having a successful marketing plan and is also the first step that ensures easy sales of your product. You need to clearly identify what motivates your target customers to buy your product or service, what are their wants and their needs. Its worth to mention here that you should not confuse wants and needs . It's a known fact that people tend to buy what they want more than what they really need. several research results shows that 95% of our buying decisions are based on emotion rather than logic. If you are skeptical about accepting this fact, just think of how many shoes or how many ties do you own ? If our buying decisions were based mainly on logic then none of us would have bought a second , third or fourth or fifth pair of shoes or more than one tie unless the one he has is lost, or worn out.
To help you clearly understand and know your potential customers you need to have complete answers to the following questions :
• How does my potential customer normally buy similar products? (e.g. in a store, on the Web, door-to-door)
• Who is the primary buyer and the primary buying influencer in the purchasing process? (e.g. husband or wife, purchasing agent, project leader, secretary)
• What kind of habits does my customer have? For instance, where do they get their information? (e.g. television, newspapers, magazines)
• What are my target customer's primary motivations for buying? (e.g. looking good, avoiding pain, getting rich, being healthy, being popular, etc.)

Third step: Choose a niche

With the amount of competition you will face in any market nowadays and with the endless sea of products and services out there, you will surely be more successful if your product or service targets a specific niche or fills a specific need that has low or no competition. Gone are the days of creating products for everybody, competition now is just too strong and you will find competitors everywhere, targeting a specific niche will guarantee your success. Carve out your own specific niche, be specialized in it and dominate it then consider moving to another niche.
Fourth Step: Develop your marketing communication

This is where you put together the message that introduces and tells your customers all about your product or service, this is the core information that will be included in all your marketing materials whatever they be ads, brochures, ...etc. To have a compelling and persuasive marketing communication, it must include the following :
• An explanation of your target prospect's problem that your product/Service resolve.
• Proof that the problem is so important that it should be solved now, without delay.
• An explanation about why you are the only person / business that can solve your prospects problem.
• An explanation of the benefits people will receive from using your solution.
• Examples and testimonials from customers you have helped with similar problems. • An explanation about prices, fees, and payment terms. • Your unconditional guarantee.
Fifth Step: Choose your marketing channels

Your marketing channels are the communication vehicles you choose to deliver your message consistently and professionally to your target customers in the specific niche you chose. Needless to say that having your message delivered efficiently means you need to choose the best possible medium that serves your purpose of delivering the message to the most niche prospects at the lowest possible cost and with reasonable frequency ensuring maximum return on investment.
Examples of marketing communication tools you can use :

• Newspaper ads • Posters
• Contests • Card decks
• Seminars • Television ads
• Signs • Sweepstakes
• Door-to-door • Teleclasses
• Radio ads • Banners
• Trade shows • Yellow Pages
• Articles • Classified ads
• Newsletter • Charity events
• Networking • Infomercials
• Billboards • Take-one box
• Telemarketing • Magazine ads
• Special events • Sales letters
• Flyers • Email
• Movie ads • Ezine ads
• Postcards • Door hangers
• Agents • Media releases
• Social Media ads • Brochures
• Gift certificates • Word-of-mouth
• Website • Sign picketing
• Business cards • Catalogs
• Air Blimps • Public speaking
• Window display

Sixth Step: Set your sales and marketing goals
Goals are critical to your success. A "wish" is a goal that hasn't been written down. If you haven't written your goals, you're still just wishing for success. When creating your goals use the SMART formula. Ensure that your goals are, (1) Specific, (2) Measurable,(3) Achievable, (4) Realistic, and (5) Time-specific.
Your goals should include financial elements, such as annual sales revenue, gross profit, sales per salesperson, and so on. However, they should also include non-financial elements such as units sold, contracts signed, clients acquired, and articles published.
Once you've set your goals, implement processes to internalize them with all team members, such as reviewing them in sales meetings, displaying thermometer posters, and awarding achievement prizes.
Seventh Step: Put together your marketing budget

Your marketing budget can be developed in several ways, depending on whether you want it to be more exact or to develop just a quick-and-dirty number. It's good to start out with a quick-and-dirty calculation and then to support it with further details.
First, if you have been in business for over a year and tracked your marketing-related expenditures, you could easily calculate your "cost to acquire one customer" or "cost to sell one product" by dividing your annual sales and marketing costs by the number of units sold (or customers acquired).
The next step is to take your cost to sell one unit or acquire one customer and simply multiply it by your unit sales or customer acquisition goal. The result of this simple computation will give you a rough estimate of what you need to invest to meet your sales goals for the next year.
A final word of advice regarding your marketing plan , Sufficient time and effort should be put into this document, it will be worth it as this can be the most important document you and your marketing team will ever need to ensure your marketing efforts are successful.
For more on marketing, check out our instant download Marketing Essentials training package.

34 Full Courses & 6 Mini Courses
Get all available programs
& save ...!!
Price: $4499.95 $2995.95
Great Value For Money
Read More
Are You a
Visual, Auditory or Kinaesthetic ?
How well do you
cope under
pressure? .
Are You A
people person?
.
Forward looking, or
Stuck in a time
warp?
How content
are you?
.
How soft-centred
are you?
.
Find Out
Your Leadership
Style
How
Emotionally intelligent are You ?
| | | |
| --- | --- | --- |
| | + | |
The Presenter-Trainer Package®
Train The Trainer
Presenting With Impact
Price: $359.95 $299.95
SAVE $59.95
Read More

Retail Excellence Series®
3 Complete Courseware
Packages in 1
Frontline Retail Selling Skills
Retail Sales Planning & Forecasting
Passionate Retail Experts
Price: $539.855 $349.95
Pay for 2 Get 1 Free
Read More

Sales excellence series®
3 Complete Courseware
Packages in 1
Sales Management
Professional Selling Skills
Sales Territory Planning & Routing
Price: $539.855 $349.95
Pay for 2 Get 1 Free
Read More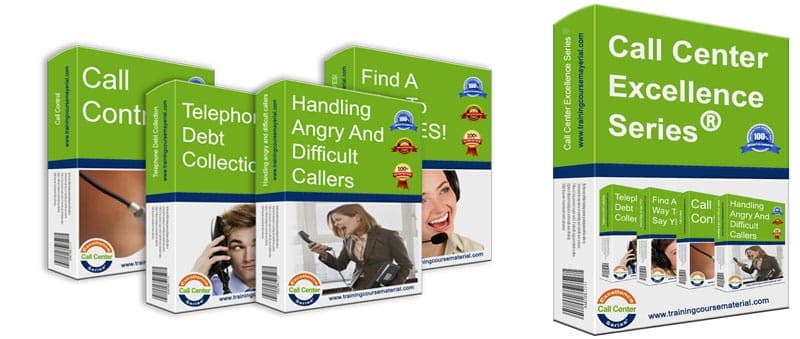 Call Center Excellence Series®
4 Complete Courseware
Packages in 1
Handling angry and difficult callers
Call control
Find a way to say YES!
Successful telephone debt collection
Price: $719.95 $449.95
Pay for 2 programs and Get 2 programs Free
Read More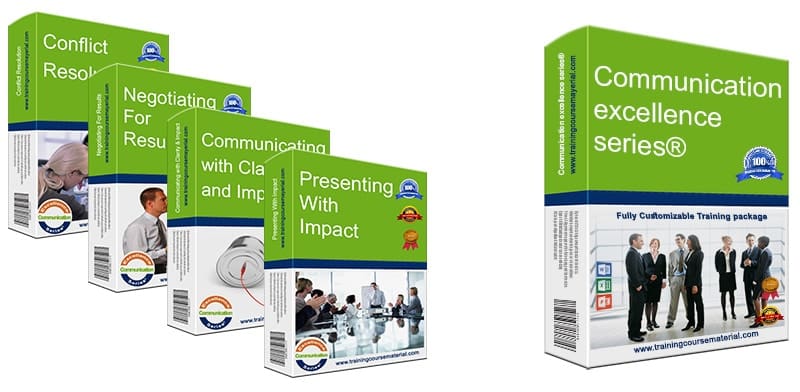 Communication Excellence Series®
4 Complete Courseware
Packages in 1
Communicating with clarity and impact
Negotiating for results
Conflict resolution
Presenting With Impact
Price: $719.95 $449.95
Pay for 2 programs and Get 2 programs Free
Read More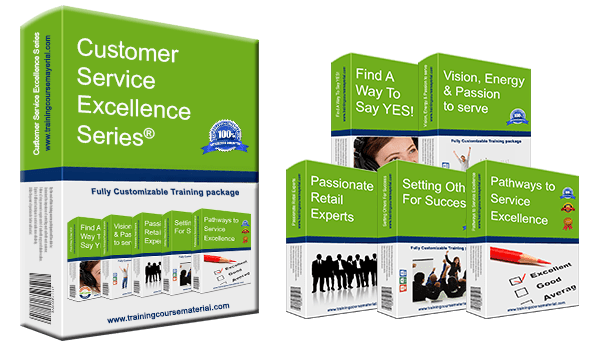 Customer Service Excellence Series®
5 Complete Courseware
Packages in 1
Vision, Energy & Passion To Serve
Pathways to service excellence
Find a way to say YES!
Passionate Retail Experts
Setting others up for success
Price: $899.75 $599.95
Pay for 3 Get 2 Free
Read More
Instant Download
Training packages
All you need
to deliver a great training!
Our training material packages come with all you need to provide
a professional and accelerated learning solution with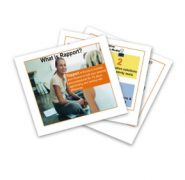 High Impact
Power Point Slide Deck
To support immersive learning, a high impact professionally designed power point slide deck to engage trainees at all levels.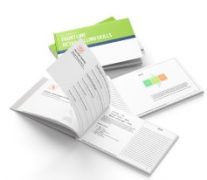 Student
Workbook
A comprehensive reference workbook you can give out to your class participants as a quick future reference.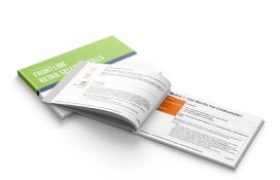 Trainer
Guide
With step-by-step clear directions with tips and suggestions on what to say and how to present each slide.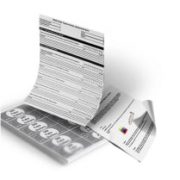 Activity
/Exercise Sheets
Various training material and support documents to help you both explain and debrief the different exercises, activities and games Plus a fun final Jeopardy style review game as a fun ending for your training program.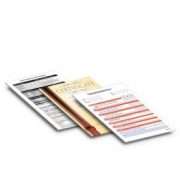 Additional
Support Documents
To ensure you have all you need to deliver a complete and professional training program, additional supporting documents are included with each full course material package. From training evaluation forms to 5 different certificate templates that you can edit and hand out to your participants at the end of your training.
Job Aids
& Forms
Specific forms designed to extend and reinforce the training that participants can utilize back on the job to help them apply the new learned concepts (Select training material packages)
Get all our training Packages
and Save!

Save over $1500 and Get each full program for under $99.00 & 6 Mini Courses free