Presentation skills
Hits: 31556
Preparing and structuring your presentation
There are three main stages to a well prepared and well structured presentation.
Making a positive first impression
The elements of a positive First Impression are : Appearance – including Posture – Communication Skills – Non-Verbal Communication

Practical Presentation pointers
Usually when we meet a smartly and professionally dressed person we get a positive impression of that person. If they look tidy and organised, we tend to make the assumption that they work in the same manner as well. However, when we meet someone who is carelessly dressed and looks scruffy and untidy, we usually think they are unprofessional and we assume that their work quality will be as unprofessional as they look.
Practical Presentation design tips
The great majority of delivery problems that presenters experience are the consequence of poor design and lack of preparation. This article outlines a process that will help you to systematically go through the most important aspects of designing a presentation so that you stand the best possible chance of succeeding in achieving your communication purpose.
Stress and Presentation
Its perfectly normal for presenting to cause some stress, cause if you don't get stressed over this then you're one in a million.
Dealing positively with nervousness
Some degree of nervous tension is a healthy and positive emotion to experience before giving a presentation because it means you care about how you present both your subject and yourself.
Know your audience
The more you know about your audience, the more power you will have in making your presentation more relevant to them, their field or their interests. Properly researching your audience or at least making an effort in that direction can really pay off.
Using slides and visuals
Slides can be a very effective tool that can help you get your message through to your audience with an impact specially when you want to focus their attention on something specific or to stimulate interest or reinforce key ideas or data.
Using your eyes while presenting
When you are delivering a talk to a group of people, they look at you. They expect you to look at them – at least in some general way.
Improving your tone of voice
Flat, monotone sound can be improved by adding three E's – energy, enthusiasm and expression. Business people sometimes develop a flat, monotone voice from the misconceived notion that the more controlled they sound and behave, the more professional they will appear.
6 Step process for delivering your presentation
A presentation is not simply a speech to a large gathering, or even to a small one. Nor is it just selling an idea to a colleague. It is a mixture of all three.
Sounding more positive and powerful
Tips on how to have a more positive and powerful tone of voice while presenting.
Sounding more positive and Authoritative
Tips on how to have a more positive and authoritative tone of voice while presenting.
Handling questions & Answers
Questions and answers transform your presentation from a one way communication to a two way communication by giving your audience the chance to interact with you and ask questions about the content you delivered.
Handling challenging presentation situations
Sometimes we can be faced with the task of informing people about a decision which has been made and which we know will be unpopular.The aim should be to inform people about the decision but not get involved in discussing or questioning the decision.
Projecting a professional image
It is a strange fact of life that when we meet people for the first time we quickly make assumptions about them through the use of our senses.
Opening and Ending with a BANG
One of the common techniques that most great presenters use to make the most impact and make their message memorable and really stick is to start and end with what they call a BANG like starting or ending with a short, amusing or interesting story about a real incident or person or an anecdote that matches or illustrates what you are talking about, this is an immediate ice breaker that creates rapport with your audience.

34 Full Courses & 6 Mini Courses
Get all available programs
& save ...!!
Price: $4499.95 $2995.95
Great Value For Money
Read More
Are You a
Visual, Auditory or Kinaesthetic ?
How well do you
cope under
pressure? .
Are You A
people person?
.
Forward looking, or
Stuck in a time
warp?
How content
are you?
.
How soft-centred
are you?
.
Find Out
Your Leadership
Style
How
Emotionally intelligent are You ?
| | | |
| --- | --- | --- |
| | + | |
The Presenter-Trainer Package®
Train The Trainer
Presenting With Impact
Price: $359.95 $299.95
SAVE $59.95
Read More

Retail Excellence Series®
3 Complete Courseware
Packages in 1
Frontline Retail Selling Skills
Retail Sales Planning & Forecasting
Passionate Retail Experts
Price: $539.855 $349.95
Pay for 2 Get 1 Free
Read More

Sales excellence series®
3 Complete Courseware
Packages in 1
Sales Management
Professional Selling Skills
Sales Territory Planning & Routing
Price: $539.855 $349.95
Pay for 2 Get 1 Free
Read More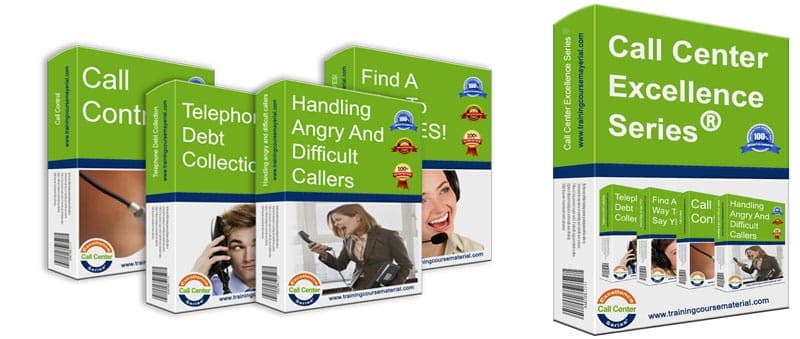 Call Center Excellence Series®
4 Complete Courseware
Packages in 1
Handling angry and difficult callers
Call control
Find a way to say YES!
Successful telephone debt collection
Price: $719.95 $449.95
Pay for 2 programs and Get 2 programs Free
Read More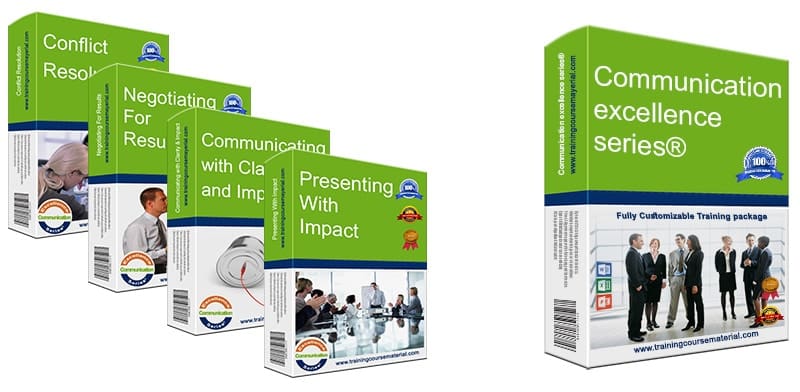 Communication Excellence Series®
4 Complete Courseware
Packages in 1
Communicating with clarity and impact
Negotiating for results
Conflict resolution
Presenting With Impact
Price: $719.95 $449.95
Pay for 2 programs and Get 2 programs Free
Read More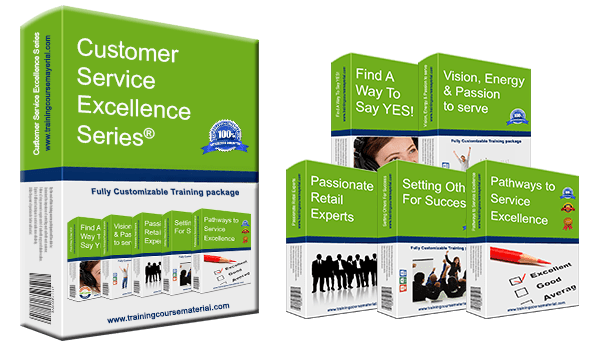 Customer Service Excellence Series®
5 Complete Courseware
Packages in 1
Vision, Energy & Passion To Serve
Pathways to service excellence
Find a way to say YES!
Passionate Retail Experts
Setting others up for success
Price: $899.75 $599.95
Pay for 3 Get 2 Free
Read More
Instant Download
Training packages
All you need
to deliver a great training!
Our training material packages come with all you need to provide
a professional and accelerated learning solution with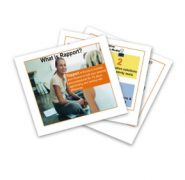 High Impact
Power Point Slide Deck
To support immersive learning, a high impact professionally designed power point slide deck to engage trainees at all levels.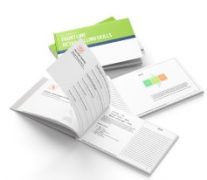 Student
Workbook
A comprehensive reference workbook you can give out to your class participants as a quick future reference.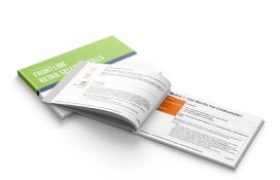 Trainer
Guide
With step-by-step clear directions with tips and suggestions on what to say and how to present each slide.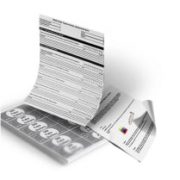 Activity
/Exercise Sheets
Various training material and support documents to help you both explain and debrief the different exercises, activities and games Plus a fun final Jeopardy style review game as a fun ending for your training program.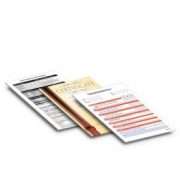 Additional
Support Documents
To ensure you have all you need to deliver a complete and professional training program, additional supporting documents are included with each full course material package. From training evaluation forms to 5 different certificate templates that you can edit and hand out to your participants at the end of your training.
Job Aids
& Forms
Specific forms designed to extend and reinforce the training that participants can utilize back on the job to help them apply the new learned concepts (Select training material packages)
Get all our training Packages
and Save!

Save over $1500 and Get each full program for under $99.00 & 6 Mini Courses free