Business Ethics & Etiquette
Hits: 15023
Are you attending too many? are they a total waste of time?, or do you think they are an effective way to communicate to large groups and a good opportunity of team members to get to know each other more?
Businesspeople attend billions of meetings each year. The cost of these meetings is enormous. Even the cost of conducting a day-long meeting with 10 staff members is high. In addition to the meeting room, coffee, meals, travel, and audio-visual equipment, you have to add the cost of staff members pulled away from their jobs. For this reason alone, meetings need to make good use of everyone's time.
Meetings if poorly run can be a complete waste of time, especially if there are too many meetings, with too many participants and when the meeting itself has no real purpose they can run for longer than scheduled and become a platform for talkative people and few right decisions come out of them and they can even complicate straightforward issues.
On the other hand, meetings if they are run effectively can be an effective means to:
- Communicate to a group
- Meeting people face-to-face
- Improving the quality of decisions
- Getting to know people
- Drawing from a variety of different experiences and backgrounds
- A great team building tool
General Guidelines for holding effective meetings
- Do not hold a meeting simply for the sake of it.
- Meetings should begin and end on time.
- Meetings must have a complete meeting agenda that is circulated in advance to all participants.
- Invite only people who need to be there and have input to the agenda.
- Jobs must be assigned to the meeting participants , for example someone to take notes, someone to make sure we are following the agenda ...etc.
- Setting ground rules at the beginning of the meeting is also very helpful in getting consensus about the timings, topics to start with and the order of speaking ..etc.
- Remember that arriving more than 10 minutes early can be considered a breach of privacy if it's in someone's office. - If you can't help being late? Make a serious effort to phone ahead and let people know. - When you do miss a meeting, make a point of apologizing forthrightly, rather than making excuses.
- Learn strategies for redirecting colleagues who go off on tangents during meetings.
Goodluck on your next meeting!
For more on business etiquette, check out our Business Etiquette instant download training package.

34 Full Courses & 6 Mini Courses
Get all available programs
& save ...!!
Price: $4499.95 $2995.95
Great Value For Money
Read More
Are You a
Visual, Auditory or Kinaesthetic ?
How well do you
cope under
pressure? .
Are You A
people person?
.
Forward looking, or
Stuck in a time
warp?
How content
are you?
.
How soft-centred
are you?
.
Find Out
Your Leadership
Style
How
Emotionally intelligent are You ?
| | | |
| --- | --- | --- |
| | + | |
The Presenter-Trainer Package®
Train The Trainer
Presenting With Impact
Price: $359.95 $299.95
SAVE $59.95
Read More

Retail Excellence Series®
3 Complete Courseware
Packages in 1
Frontline Retail Selling Skills
Retail Sales Planning & Forecasting
Passionate Retail Experts
Price: $539.855 $349.95
Pay for 2 Get 1 Free
Read More

Sales excellence series®
3 Complete Courseware
Packages in 1
Sales Management
Professional Selling Skills
Sales Territory Planning & Routing
Price: $539.855 $349.95
Pay for 2 Get 1 Free
Read More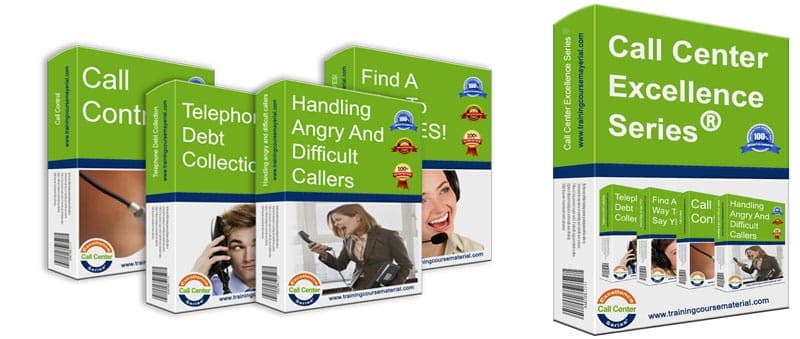 Call Center Excellence Series®
4 Complete Courseware
Packages in 1
Handling angry and difficult callers
Call control
Find a way to say YES!
Successful telephone debt collection
Price: $719.95 $449.95
Pay for 2 programs and Get 2 programs Free
Read More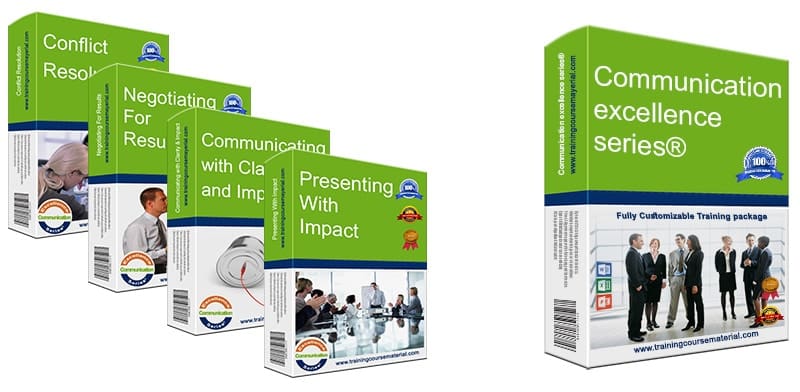 Communication Excellence Series®
4 Complete Courseware
Packages in 1
Communicating with clarity and impact
Negotiating for results
Conflict resolution
Presenting With Impact
Price: $719.95 $449.95
Pay for 2 programs and Get 2 programs Free
Read More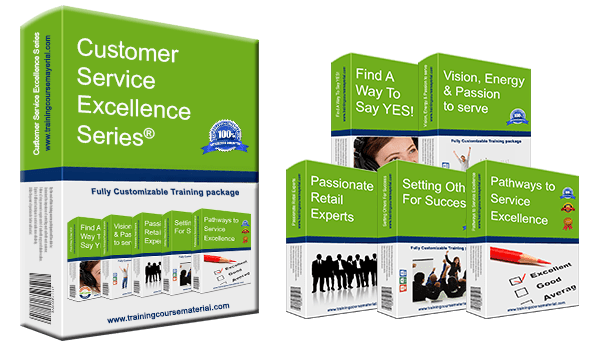 Customer Service Excellence Series®
5 Complete Courseware
Packages in 1
Vision, Energy & Passion To Serve
Pathways to service excellence
Find a way to say YES!
Passionate Retail Experts
Setting others up for success
Price: $899.75 $599.95
Pay for 3 Get 2 Free
Read More
Instant Download
Training packages
All you need
to deliver a great training!
Our training material packages come with all you need to provide
a professional and accelerated learning solution with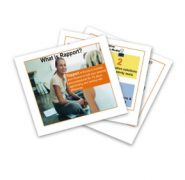 High Impact
Power Point Slide Deck
To support immersive learning, a high impact professionally designed power point slide deck to engage trainees at all levels.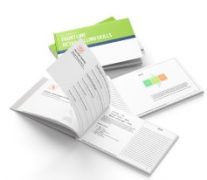 Student
Workbook
A comprehensive reference workbook you can give out to your class participants as a quick future reference.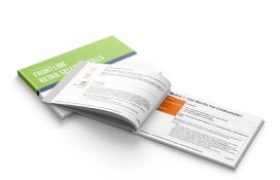 Trainer
Guide
With step-by-step clear directions with tips and suggestions on what to say and how to present each slide.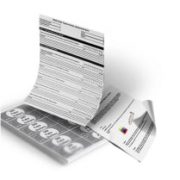 Activity
/Exercise Sheets
Various training material and support documents to help you both explain and debrief the different exercises, activities and games Plus a fun final Jeopardy style review game as a fun ending for your training program.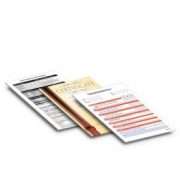 Additional
Support Documents
To ensure you have all you need to deliver a complete and professional training program, additional supporting documents are included with each full course material package. From training evaluation forms to 5 different certificate templates that you can edit and hand out to your participants at the end of your training.
Job Aids
& Forms
Specific forms designed to extend and reinforce the training that participants can utilize back on the job to help them apply the new learned concepts (Select training material packages)
Get all our training Packages
and Save!

Save over $1500 and Get each full program for under $99.00 & 6 Mini Courses free