Dealing with Gen Y learners
If you are a trainer then you probably had them in class before and definitely will in the future. Gen Y are the young workforce of today. Are you ready for them?
Who are Gen Y anyway?
They were called so many names, "Millennials," "The Internet generation," "Generation why," "Generation next" They are the youngest generation in today's workforce entering the workplace learning environment. They are those who were born after 1980.
What are they like?
Many people sought to classify Gen Y and put all people of this age group into a box, when in fact Gen Y is not a group of homogenous clones. It is made up of individuals with a wide range of skills and behaviours. In recent years there has been much publicity about how different this generation is from previous generations (Generation X and Baby Boomers). Gen Y is often negatively and inaccurately classified as consisting of disenfranchised, antisocial technophiles with short attention spans and poor communication skills. Overall there is a consensus that Gen Y has grown up in a very different environment to previous generations, they come to the workplace with different skills and lack some skills as well. Like previous generations they are motivated by different things however, Gen Yers think differently about learning and development, they also have a different approach to work relationships. These differences when combined with all the recent advances in technology and communication suggests that there is a demand for new ways of working and learning.
Gen Y characteristics related to learning and tips for trainers:
Having witnessed legendary success stories such as Mark Zuckerberg with Facebook and creators of Twitter, WhatsApp and others, they are very ambitious and eager to move their careers forward as fast as possible.
Having grown up with technology, in general they feel more comfortable with it than older generations. They need technology and rely on it.
Gen Y craves public recognition for work well done. Young learners also react well to motivational activities that embed them in the culture and exploit their interest in entrepreneurial activities.
They like information that is presented in sound bites, they have a greater need to be entertained, have fun and love rewards such as prizes for participation.
Gen Y has grown up in an era of equality of status and like their trainers to assume the role of a 'peer' or a 'friend'. They value people who listen to them although sometimes they may have a somewhat forceful communication, over-confidence and lack of teamwork.
Today's younger learners have learned to be self-reliant with independent problem solving skills. To function well within the work environment, they need to be involved in learning experiences that will help them develop the interpersonal and team skills they may lack.
Gen Y needs development in soft skills, particularly face-to-face behaviour. Office etiquette, respect, teamwork and other interpersonal skills are important areas for development.
One of their names is "Generation why" because they always want to know the reason why they are being asked to do anything so provide and introduce challenging activities with scaffolding to support and always make sure you explain and highlight the reasons behind each activity and make sure the link back to the workplace crystal clear.
One major difference between Gen Y and previous generations with regards to learning and development is that they are not shy to demand high quality learning that meets individual needs. Previous generations had the same needs but often did not ask.
Look for opportunities to create networks of multi-generational groups. Reverse mentoring or group projects allow others to get to know each other and learn how they can help each other.
Be open to new ideas from this generation. There will be some great nuggets of gold in there.
Don't assume all Gen Y are technical geniuses. Don't lump them together because of one experience or what you have seen or heard in the media.
Look at how you educate. Does it really work? Is it appropriate to the business? Is it designed for the way people want to learn? If not, change it – to the benefit of all generations.
It is symptomatic of this youth culture that it is all about immediacy. They [Gen Y] don't have the time to even consider emergent learning, like this will make sense later on. They want it to make sense there and then, now, immediately."
To meet the learning needs of this younger audience, trainers need to increase the speed and interaction of the training, make the training more relevant and give learners more options and choices, use more technology, think of creative activities to bring social media to the training room to make training more fun and engaging for Gen Y.
Concepts adopted from research findings by Ashridge business school, UK www.ashridge.org.uk/GenYResearch

34 Full Courses & 6 Mini Courses
Get all available programs
& save ...!!
Price: $4499.95 $2995.95
Great Value For Money
Read More
Are You a
Visual, Auditory or Kinaesthetic ?
How well do you
cope under
pressure? .
Are You A
people person?
.
Forward looking, or
Stuck in a time
warp?
How content
are you?
.
How soft-centred
are you?
.
Find Out
Your Leadership
Style
How
Emotionally intelligent are You ?
| | | |
| --- | --- | --- |
| | + | |
The Presenter-Trainer Package®
Train The Trainer
Presenting With Impact
Price: $359.95 $299.95
SAVE $59.95
Read More

Retail Excellence Series®
3 Complete Courseware
Packages in 1
Frontline Retail Selling Skills
Retail Sales Planning & Forecasting
Passionate Retail Experts
Price: $539.855 $349.95
Pay for 2 Get 1 Free
Read More

Sales excellence series®
3 Complete Courseware
Packages in 1
Sales Management
Professional Selling Skills
Sales Territory Planning & Routing
Price: $539.855 $349.95
Pay for 2 Get 1 Free
Read More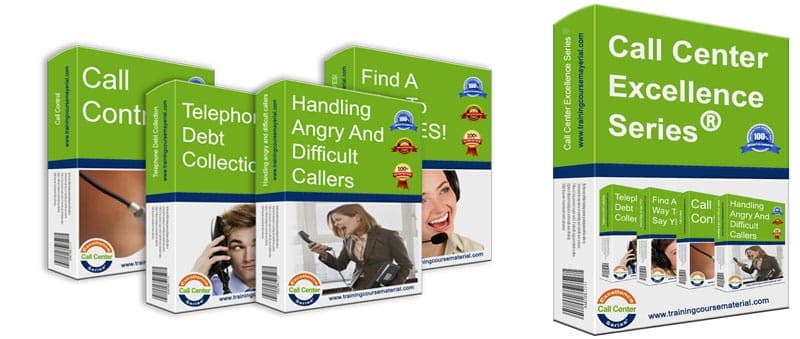 Call Center Excellence Series®
4 Complete Courseware
Packages in 1
Handling angry and difficult callers
Call control
Find a way to say YES!
Successful telephone debt collection
Price: $719.95 $449.95
Pay for 2 programs and Get 2 programs Free
Read More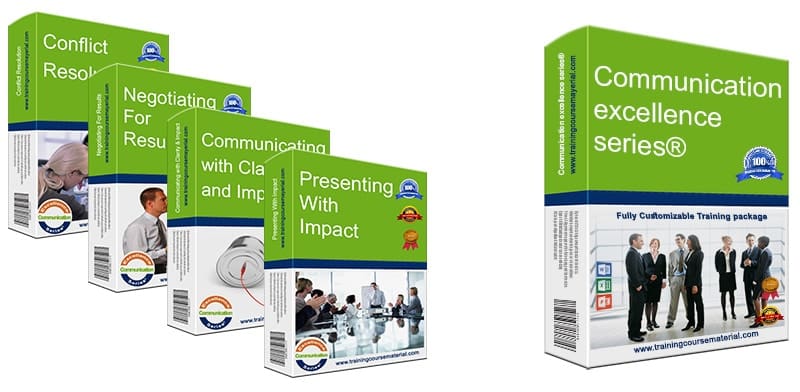 Communication Excellence Series®
4 Complete Courseware
Packages in 1
Communicating with clarity and impact
Negotiating for results
Conflict resolution
Presenting With Impact
Price: $719.95 $449.95
Pay for 2 programs and Get 2 programs Free
Read More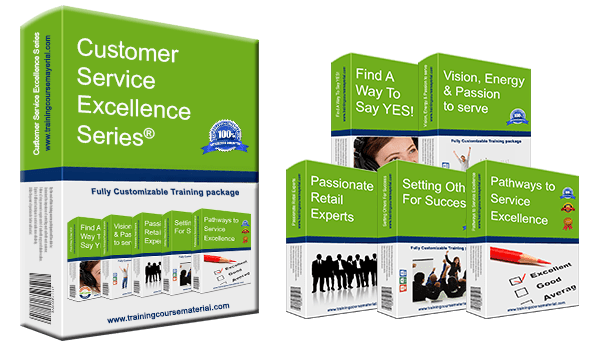 Customer Service Excellence Series®
5 Complete Courseware
Packages in 1
Vision, Energy & Passion To Serve
Pathways to service excellence
Find a way to say YES!
Passionate Retail Experts
Setting others up for success
Price: $899.75 $599.95
Pay for 3 Get 2 Free
Read More
Instant Download
Training packages
All you need
to deliver a great training!
Our training material packages come with all you need to provide
a professional and accelerated learning solution with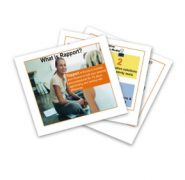 High Impact
Power Point Slide Deck
To support immersive learning, a high impact professionally designed power point slide deck to engage trainees at all levels.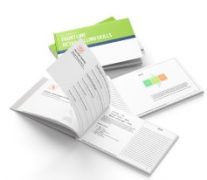 Student
Workbook
A comprehensive reference workbook you can give out to your class participants as a quick future reference.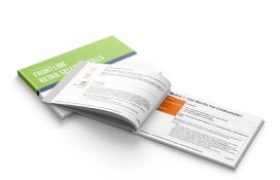 Trainer
Guide
With step-by-step clear directions with tips and suggestions on what to say and how to present each slide.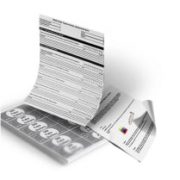 Activity
/Exercise Sheets
Various training material and support documents to help you both explain and debrief the different exercises, activities and games Plus a fun final Jeopardy style review game as a fun ending for your training program.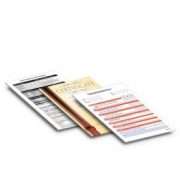 Additional
Support Documents
To ensure you have all you need to deliver a complete and professional training program, additional supporting documents are included with each full course material package. From training evaluation forms to 5 different certificate templates that you can edit and hand out to your participants at the end of your training.
Job Aids
& Forms
Specific forms designed to extend and reinforce the training that participants can utilize back on the job to help them apply the new learned concepts (Select training material packages)
Get all our training Packages
and Save!

Save over $1500 and Get each full program for under $99.00 & 6 Mini Courses free