How Can Automation Revolutionize Your Training Business?
How Can Automation Revolutionize Your Training Business?
Ever heard the phrase work smarter not harder?
Running a successful training business is all about finding ways to make your life easier, and with technology advancing by the day there's a whole wealth of resources out there that can do just that.
Automation is one of them.
It all starts with machine learning.
Our increasingly intelligent computers have the ability to learn from your data, identify relevant patters and make decisions. All of this with very minimal human intervention.
In short, it's an absolute dream for training businesses who want to save time without compromising on the quality of their content.
Automation is the next step for a more productive business that still serves each and every one of your learners.
Here we've laid out just a few ways automation can revolutionise your training business, so read on for inspiration.
More Efficient Learning
One of the most difficult aspects of putting together a training course is accommodating different levels of knowledge.
When you pitch your content at a level that is either too basic or too advanced for the learner, disengagement can occur, which spells disaster for their results.
Automation has the ability to support you in creating more efficient and effective learning that is tailored to your students.
For example, before undertaking a new training programme or course, learners could take a quiz intended to highlight which areas they are already familiar with and areas where they need more support. From there, a piece of software is then able to chop and change module that match the level of experience the user has, thus enhancing their learning experience.
Save Money
Whilst your passion might be education and training, your business focus is the bottom line.
Automated solutions can support you in creating educational content more efficiently – which saves you time and money.
Automation has the ability to generate exams and quizzes based on the content of your courses.
All that's needed of you is to upload your content into a piece of software and let machine learning take care of the rest. The result? More time to focus on other areas of your business.
Workflow Management
Keeping track of your learners is important, particularly if the bulk of their study is self-directed.
This is another key area where automated solutions can support you in growing your business whilst still keeping your students at the heart of what you do.
An example of this is automation keeping track of your learner's journey and giving them subtle nudges in the right direction when they threaten to fall of track.
A piece of software can easily be configured to respond to your students behaviour. If they fail a test, an automatic response can be triggered to support them in where they need to improve to succeed in the future. Similarly, it can be used at key points in their learning to prompt and remind.
This means that none of your students can fall off your radar or disappear entirely. They are supported every step of the way for better results in the future.
Customised Learning
One of the reasons why the education and training sector is such a lucrative space at the moment is because individuals are turning to non-traditional methods for personalised courses that meet their needs.
Automation and machine learning help you do that in just a few easy steps.
If a user fails a quiz whilst on their programme, your system can be configured to send them an e-mail containing further resources to support them, or supply them with information on a mini course, or extra module that can bolster their learning.
For a training business, this is potentially a very lucrative tool that will set your courses apart from the rest. It is also a fantastic opportunity to diversify your income streams by offering extra courses or recommending further courses when another has been completed.
By this point, the system knows your learner inside and out and is likely to suggest something to them that will peak their interest and continue engaging with your business.
There are many more reasons as to why automation and machine learning should be featuring in your training business right now. With competition on the up, it's an important asset that enables you to focus on the business aspect of your organisation, without losing sight of the learners that make it possible. The best part is, that many of these automated solutions can be integrated or added on to your LMS, so information is fed from there directly into the system. What are you waiting for?

34 Full Courses & 6 Mini Courses
Get all available programs
& save ...!!
Price: $4499.95 $2995.95
Great Value For Money
Read More
Are You a
Visual, Auditory or Kinaesthetic ?
How well do you
cope under
pressure? .
Are You A
people person?
.
Forward looking, or
Stuck in a time
warp?
How content
are you?
.
How soft-centred
are you?
.
Find Out
Your Leadership
Style
How
Emotionally intelligent are You ?
| | | |
| --- | --- | --- |
| | + | |
The Presenter-Trainer Package®
Train The Trainer
Presenting With Impact
Price: $359.95 $299.95
SAVE $59.95
Read More

Retail Excellence Series®
3 Complete Courseware
Packages in 1
Frontline Retail Selling Skills
Retail Sales Planning & Forecasting
Passionate Retail Experts
Price: $539.855 $349.95
Pay for 2 Get 1 Free
Read More

Sales excellence series®
3 Complete Courseware
Packages in 1
Sales Management
Professional Selling Skills
Sales Territory Planning & Routing
Price: $539.855 $349.95
Pay for 2 Get 1 Free
Read More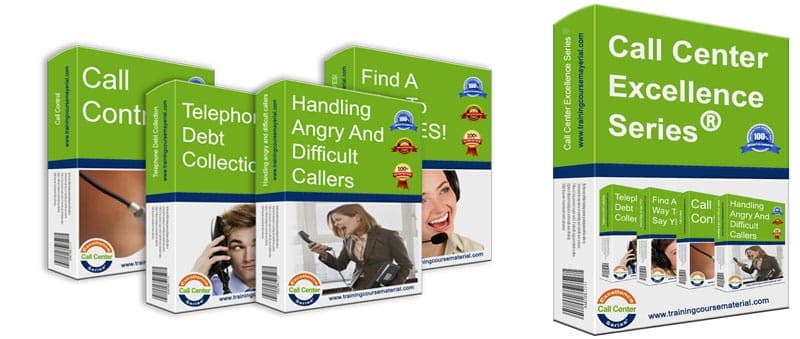 Call Center Excellence Series®
4 Complete Courseware
Packages in 1
Handling angry and difficult callers
Call control
Find a way to say YES!
Successful telephone debt collection
Price: $719.95 $449.95
Pay for 2 programs and Get 2 programs Free
Read More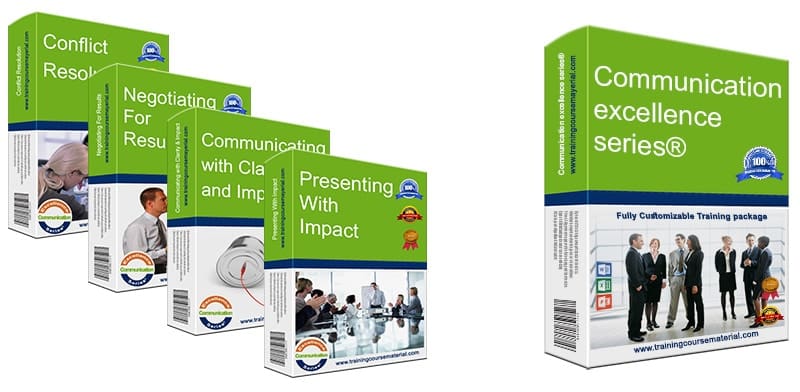 Communication Excellence Series®
4 Complete Courseware
Packages in 1
Communicating with clarity and impact
Negotiating for results
Conflict resolution
Presenting With Impact
Price: $719.95 $449.95
Pay for 2 programs and Get 2 programs Free
Read More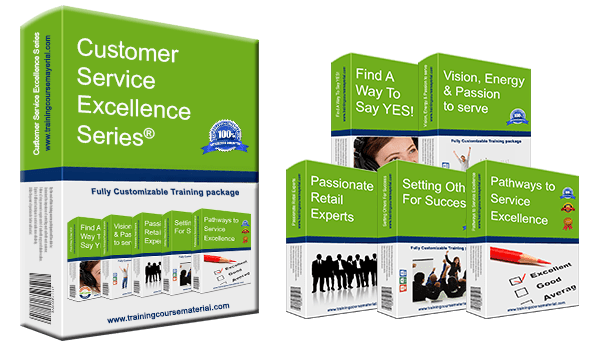 Customer Service Excellence Series®
5 Complete Courseware
Packages in 1
Vision, Energy & Passion To Serve
Pathways to service excellence
Find a way to say YES!
Passionate Retail Experts
Setting others up for success
Price: $899.75 $599.95
Pay for 3 Get 2 Free
Read More
Instant Download
Training packages
All you need
to deliver a great training!
Our training material packages come with all you need to provide
a professional and accelerated learning solution with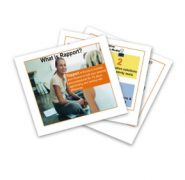 High Impact
Power Point Slide Deck
To support immersive learning, a high impact professionally designed power point slide deck to engage trainees at all levels.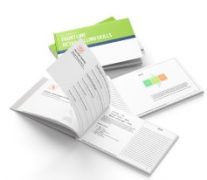 Student
Workbook
A comprehensive reference workbook you can give out to your class participants as a quick future reference.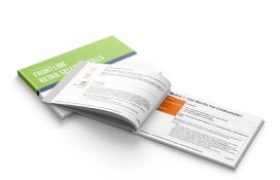 Trainer
Guide
With step-by-step clear directions with tips and suggestions on what to say and how to present each slide.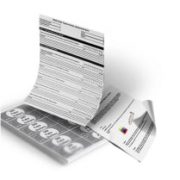 Activity
/Exercise Sheets
Various training material and support documents to help you both explain and debrief the different exercises, activities and games Plus a fun final Jeopardy style review game as a fun ending for your training program.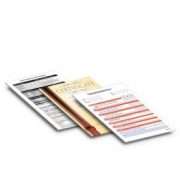 Additional
Support Documents
To ensure you have all you need to deliver a complete and professional training program, additional supporting documents are included with each full course material package. From training evaluation forms to 5 different certificate templates that you can edit and hand out to your participants at the end of your training.
Job Aids
& Forms
Specific forms designed to extend and reinforce the training that participants can utilize back on the job to help them apply the new learned concepts (Select training material packages)
Get all our training Packages
and Save!

Save over $1500 and Get each full program for under $99.00 & 6 Mini Courses free