How to Conduct a Training Needs Assessment
What's at the heart of every good training program?
At the heart of any good training program is a Training Needs Assessment. Without it you run the risk of providing a training course to a client that trains them in the wrong area, doesn't target the right people or utilise the wrong learning methods.
Initially, it is important to understand what your Training Needs Assessment needs to cover. Generally this will be:
What training is needed and why?
Who needs it?
How will it be delivered?
What will the results be?
Let's dive right in and take it step by step to determine ways in which you can answer these questions.
1. Identify the Desired Result
If you're producing a training course for a client, you need to discover what the goal of the training is.
Examples of these goals could be:
Improving customer satisfaction ratings
Increasing conversion rates
Improving employee success through better supervisions
When you've determined the overall training goal, this needs to be clearly stated and kept at the core of the development process to ensure that the course meets it at every turn.
2. Identify Desired Behaviours
Once you understand the result that the training course will glean, you need to pinpoint what needs to be learned to achieve this. Learners need to:
Know what they need to do to succeed.
Have the capability to do it.
Have the motivation to do it.
Before your learners know this, though, you need to know it. So now is the time to identify crucial competencies, such as personal characteristics, abilities, behaviours and knowledge that will natural need to the desired result.
Finding this out comes in the form of data collection. This can be carried out through interviews, surveys or group discussions. By hearing directly from the people you are looking to train, you can hear directly from them what they think they need alongside what you think they need. This will help you to articulate exactly what they need to do to succeed and compile a training program that will help them do it.
3. Identify Gaps in Performance
Once you fully understand how the ultimate goal is to be met, and the competencies involved in doing so, you can take the data you compiled in step 2 to identify 'performance gaps'. Dependent on the depth and breadth of the research, it is possible to identify who needs training and where training needs to be focused. Once this is clear, you should have a strong foundation on which to build you training course.
4.Design your Training
With all the information in front of you, now is the time to get planning your next course. It is important at this point to take into account adult learning principles to determine the best ways to train the learners.
This could be in the form of:
On the job training;
Classroom learning;
Online learning; or
Mentoring and coaching
By compiling a course that uses a blended approach to learning styles, it is possible to appeal to a range of learners. That being said, one of the most crucial adult learning principles is that they are self-directed, so the bulk of your course should focus around the learning demonstrating a skill or performing a task that relates directly to the job they are going to be doing. Studies have shown that the rate of retention is about 75% for performing a skill or task, in contrast to 10% for reading and 30% for watching a demonstration.
Training Needs Assessments will form the cornerstone of any training course. Whether you are working with a client to create a course for their organisation, or working to create one of your own, taking the time to carry out this assessment will help you see the areas that require attentions vs areas that are working well. In identifying a performance gap, it is possible to put together effective courses that fulfil the expectations of your clients or potential attendees, provided the content is engaging, enjoyable, and hands on enough to capitalise on the retention of your learners.

34 Full Courses & 6 Mini Courses
Get all available programs
& save ...!!
Price: $4499.95 $2995.95
Great Value For Money
Read More
Are You a
Visual, Auditory or Kinaesthetic ?
How well do you
cope under
pressure? .
Are You A
people person?
.
Forward looking, or
Stuck in a time
warp?
How content
are you?
.
How soft-centred
are you?
.
Find Out
Your Leadership
Style
How
Emotionally intelligent are You ?
| | | |
| --- | --- | --- |
| | + | |
The Presenter-Trainer Package®
Train The Trainer
Presenting With Impact
Price: $359.95 $299.95
SAVE $59.95
Read More

Retail Excellence Series®
3 Complete Courseware
Packages in 1
Frontline Retail Selling Skills
Retail Sales Planning & Forecasting
Passionate Retail Experts
Price: $539.855 $349.95
Pay for 2 Get 1 Free
Read More

Sales excellence series®
3 Complete Courseware
Packages in 1
Sales Management
Professional Selling Skills
Sales Territory Planning & Routing
Price: $539.855 $349.95
Pay for 2 Get 1 Free
Read More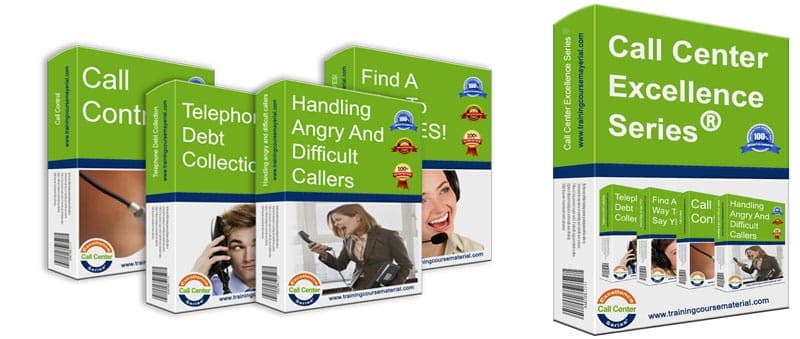 Call Center Excellence Series®
4 Complete Courseware
Packages in 1
Handling angry and difficult callers
Call control
Find a way to say YES!
Successful telephone debt collection
Price: $719.95 $449.95
Pay for 2 programs and Get 2 programs Free
Read More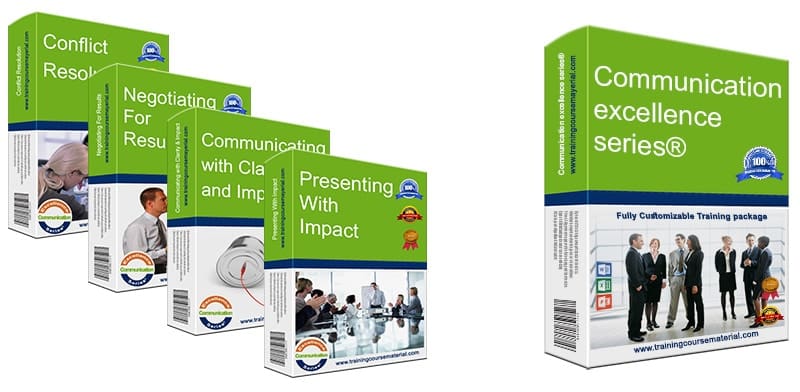 Communication Excellence Series®
4 Complete Courseware
Packages in 1
Communicating with clarity and impact
Negotiating for results
Conflict resolution
Presenting With Impact
Price: $719.95 $449.95
Pay for 2 programs and Get 2 programs Free
Read More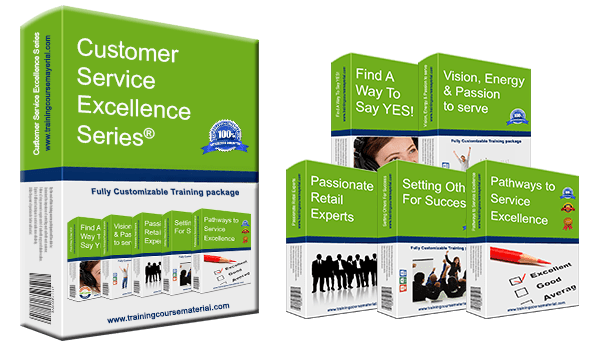 Customer Service Excellence Series®
5 Complete Courseware
Packages in 1
Vision, Energy & Passion To Serve
Pathways to service excellence
Find a way to say YES!
Passionate Retail Experts
Setting others up for success
Price: $899.75 $599.95
Pay for 3 Get 2 Free
Read More
Instant Download
Training packages
All you need
to deliver a great training!
Our training material packages come with all you need to provide
a professional and accelerated learning solution with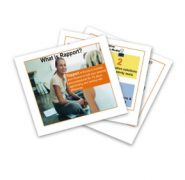 High Impact
Power Point Slide Deck
To support immersive learning, a high impact professionally designed power point slide deck to engage trainees at all levels.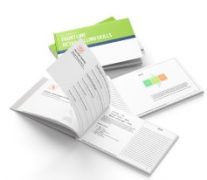 Student
Workbook
A comprehensive reference workbook you can give out to your class participants as a quick future reference.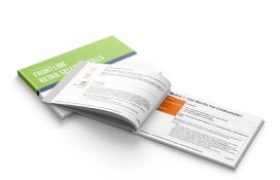 Trainer
Guide
With step-by-step clear directions with tips and suggestions on what to say and how to present each slide.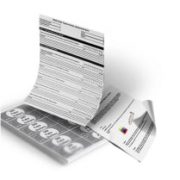 Activity
/Exercise Sheets
Various training material and support documents to help you both explain and debrief the different exercises, activities and games Plus a fun final Jeopardy style review game as a fun ending for your training program.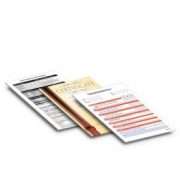 Additional
Support Documents
To ensure you have all you need to deliver a complete and professional training program, additional supporting documents are included with each full course material package. From training evaluation forms to 5 different certificate templates that you can edit and hand out to your participants at the end of your training.
Job Aids
& Forms
Specific forms designed to extend and reinforce the training that participants can utilize back on the job to help them apply the new learned concepts (Select training material packages)
Get all our training Packages
and Save!

Save over $1500 and Get each full program for under $99.00 & 6 Mini Courses free