Short Courses: Your Secret To Training Success
Short courses are your new best friend.
Why?
Because they'll make you lots of money.
You've probably spent a chunk of time pouring your heart and soul into long, robust, comprehensive training programmes that are then sold as one complete package. That's the tried and tested way, right?
Well, stop. Stop right now.
Short courses are your new best friend because they are mutually beneficial to both you and your customer. Attention spans are short in this day and age. With the advent of smart phones and multiple screens, it takes something truly special to capture our attention for long periods of time. This is even more true when it comes to learning. Long, arduous courses aren't doing you any favours. Even if you're selling them at a premium. Short courses are the new long courses.
Short courses are what your customers are looking for. Short courses will see repeat business soar AND increase your revenue. And your learners will be happier.
Win – win.
So, let's just take some time to break this down somewhat.
When an individual or an organisation are looking for a specific course, it is likely that they will be operating from some kind of base level.
Beginner. Intermediate. Expert. Master.
Already you should see an opportunity there. Instead of trying to cover beginner right the way through to master in one fell swoop, why aren't you breaking your courses up into shorter, more specific courses and building your customers up to the 'ultimate' level (if that even exists?).
That's where short courses really come into their own. By offering your learners a range of options you're doing many things all at the same time. You're reassuring them that you know what you're talking about. We all know Jiu-Jitsu can't be mastered in one course, no matter how long it is. It takes time and study and practice to refine and hone the basic skills before working your way through the ranks. Your courses should reflect just this.
Instead of one-shot, one off courses. Sell the relevant level to your customer and then make it so good, so robust, so informative, that they are chomping at the bit to move up to the next.
In fact, they're waiting to hand over their money to reach the next level of your training course. There's a very clear structure to this that's easy to understand and beneficial to the person taking the training. They'll know that the course they choose is targeted at people at their level. There will be no super-advanced terminology that instantly puts them off and makes them ask for their money back. They don't feel talked down to.
The course they choose is absolutely pitched at the right level for them. Not only that, but shorter courses look more manageable and more achievable. Motivation forms a huge part of the learning experience, and if your learner is already put off by the size and scope of the course, they're unlikely to see it through to the end and even less likely to return to you in the future.
By offering a clear progression route for rookies through to experts you speak to every person out there who is even vaguely interested in your subject matter. And there's a clear funnel you can build to guide them through the process and maximise your revenue.
The first place to start is to offer a free taster course. This can be an online webinar, hosted on an eLearning platform, or even a Lunch & Learn held at the local community centre or library. By doing this, straight from the offset you are sharing your eagerness and willingness to share your expertise and add value.
Think of your taster course as the 'hook'. It's free, which is a draw in itself – and attendees have the guarantee of getting something for nothing.
Once you've held your taster session, you will have a list of contact information for people who have actively shown interest in the course subject matter. By using targeted questioning in your surveys and data collection, you can find out exactly where they are on the expertise ladder, and target your communications to capitalise on that.
So, you won't be offering the novice a course that is way too advanced for them. And in the same vein you will be aware of those customers with a bit of experience under their belt but who want to build on that knowledge.
When you are ready and raring to get going it can be tempting to put all of your enthusiasm into one long course. But hold your horses! Breaking them up into manageable chunked courses means your customers will make multiple purchases over a longer period of time and increases the likelihood of them coming back to you again and again because your content suits their needs and learning styles.
The future is short. Are you ready for it?

34 Full Courses & 6 Mini Courses
Get all available programs
& save ...!!
Price: $4499.95 $2995.95
Great Value For Money
Read More
Are You a
Visual, Auditory or Kinaesthetic ?
How well do you
cope under
pressure? .
Are You A
people person?
.
Forward looking, or
Stuck in a time
warp?
How content
are you?
.
How soft-centred
are you?
.
Find Out
Your Leadership
Style
How
Emotionally intelligent are You ?
| | | |
| --- | --- | --- |
| | + | |
The Presenter-Trainer Package®
Train The Trainer
Presenting With Impact
Price: $359.95 $299.95
SAVE $59.95
Read More

Retail Excellence Series®
3 Complete Courseware
Packages in 1
Frontline Retail Selling Skills
Retail Sales Planning & Forecasting
Passionate Retail Experts
Price: $539.855 $349.95
Pay for 2 Get 1 Free
Read More

Sales excellence series®
3 Complete Courseware
Packages in 1
Sales Management
Professional Selling Skills
Sales Territory Planning & Routing
Price: $539.855 $349.95
Pay for 2 Get 1 Free
Read More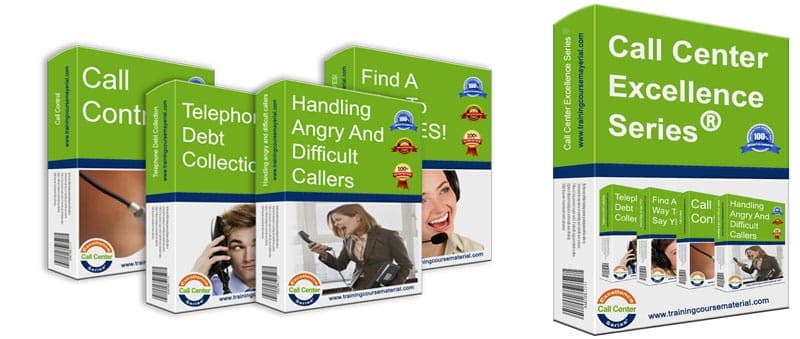 Call Center Excellence Series®
4 Complete Courseware
Packages in 1
Handling angry and difficult callers
Call control
Find a way to say YES!
Successful telephone debt collection
Price: $719.95 $449.95
Pay for 2 programs and Get 2 programs Free
Read More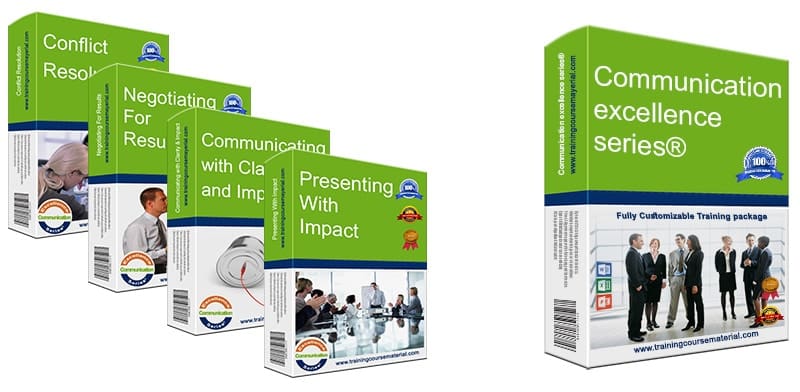 Communication Excellence Series®
4 Complete Courseware
Packages in 1
Communicating with clarity and impact
Negotiating for results
Conflict resolution
Presenting With Impact
Price: $719.95 $449.95
Pay for 2 programs and Get 2 programs Free
Read More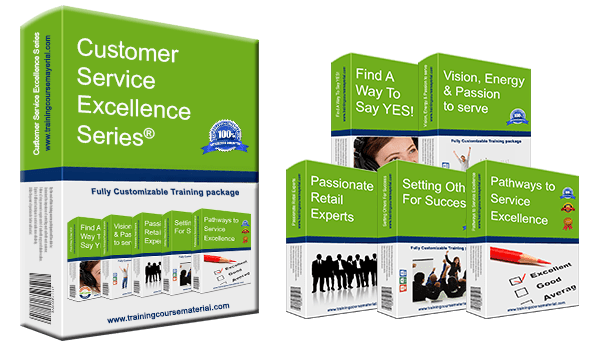 Customer Service Excellence Series®
5 Complete Courseware
Packages in 1
Vision, Energy & Passion To Serve
Pathways to service excellence
Find a way to say YES!
Passionate Retail Experts
Setting others up for success
Price: $899.75 $599.95
Pay for 3 Get 2 Free
Read More
Instant Download
Training packages
All you need
to deliver a great training!
Our training material packages come with all you need to provide
a professional and accelerated learning solution with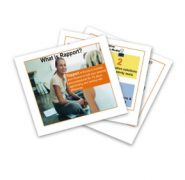 High Impact
Power Point Slide Deck
To support immersive learning, a high impact professionally designed power point slide deck to engage trainees at all levels.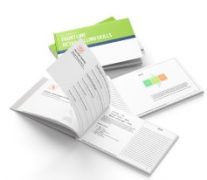 Student
Workbook
A comprehensive reference workbook you can give out to your class participants as a quick future reference.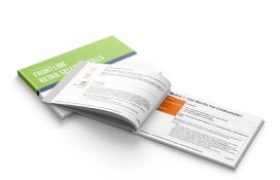 Trainer
Guide
With step-by-step clear directions with tips and suggestions on what to say and how to present each slide.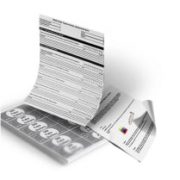 Activity
/Exercise Sheets
Various training material and support documents to help you both explain and debrief the different exercises, activities and games Plus a fun final Jeopardy style review game as a fun ending for your training program.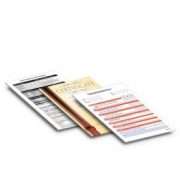 Additional
Support Documents
To ensure you have all you need to deliver a complete and professional training program, additional supporting documents are included with each full course material package. From training evaluation forms to 5 different certificate templates that you can edit and hand out to your participants at the end of your training.
Job Aids
& Forms
Specific forms designed to extend and reinforce the training that participants can utilize back on the job to help them apply the new learned concepts (Select training material packages)
Get all our training Packages
and Save!

Save over $1500 and Get each full program for under $99.00 & 6 Mini Courses free