Membership programs as a marketing tool
Membership programs as a marketing tool
Branding and Marketing
Hits: 13265
Everyone Wants to Feel SPECIAL
It is a very powerful human need the feeling of wanting to "belong" to something , become an elite member. Again this is one of the psychological needs that humans have that marketers capitalize on by creating membership programs.
There are numerous benefits that a membership program brings to a business , just to name a few:
- Improves customer loyalty and decreases the number of defecting customers as membership programs fulfills this need and desire all humans have to belong and be a member of a body or an organization which in turn leads to increased customer loyalty.
- Can provide a constant stream of revenue through membership renewal fees instead of sporadically selling products and services.
- Helps businesses sell its full suite of services without much effort. Many businesses use membership programs to sell slow moving or less desirable products or services by including them in membership packages so customers are more likely to use and take advantage of them and at the same time add more value to the membership program.
- Can improve referral businesses by including special benefits or upgrades to members for referrals which encourages them to become part of your sales force and promote the membership programs among their friends and family cause it becomes in their best interest as well to attract new members.
- Helps businesses get more revenue from existing customers by creating multi-level membership programs that encourages and tempts customers to move to higher membership levels and consequently spend more money.
Every business that exists can one way or another profit from putting together some form of a membership marketing program and enjoy some of these very powerful benefits they provide to the business, next lets take a quick look at the types of membership programs as well as the pricing models for the different membership programs that are often used by companies to increase profits.
Types of membership programs:
There are endless different forms and types of membership programs nowadays, of course it depends on the type of business but companies have become extremely creative now with the different types of services they provide to their members.
Most membership programs have different levels and they usually use names like bronze, silver, gold , platinum ..etc. to show and give the impression to customers of the increasing value they will get once they progress to the higher levels of the membership program. As mentioned above the types of services the different membership programs offer to customers is so diverse these days. Just to give you a few examples of the services offered:
- Membership programs with points systems offering discounts on purchases when redeeming your accumulated points or the choice of using your points to purchase items or make bookings
- Elite Membership programs of some of the major credit card companies that offers a number of privileges to specific card level owners like access to first class lounges in major airports or special discounts in some of the international retailers.
- Membership programs offering express counters for members to avoid waiting times which can be seen in some of the major banks or retailers offering free delivery of products to members.
- All major airlines offering membership programs and have mileage programs, the more you fly the more miles you get which makes you eligible for upgrades, seat selections, priority bookings, ...etc.
- Coffee shop membership programs where members get a free coffee and cake when you by a certain number of cups of coffee
- Dry cleaners offering a discount for members only.
- Movie theaters membership offering members 5 movies monthly for the price of 3 and 8 movies monthly for the price of 5 for premium members.
- Oil and lube franchise offering members free complete car cleaning or free oil change.
As you can see from the examples above businesses big or small from major airlines and credit card companies to coffee shop owners and dry cleaners do benefit from creating their own membership programs and capitalizing on the basic psychological need we all have as humans to be special and to feel like we belong and of course enjoying the free additional services and products that comes with it.
Pricing membership programs:
There are many free membership programs but then there are many paid membership programs as well. Even with the free ones or the free to sign up membership programs, members will need to maintain their membership to keep from losing it by using the service of buying the product at least once in a specific time period. We wish to focus here more about the paid membership programs because paid memberships are those that bring the best value to a business by guaranteeing a steady stream of income from members who renew their membership. Membership programs have many pricing models and must be tested to determine the right price for your business and clientele. However, pricing your lower membership levels inexpensively is a smart tactic. Your goal should be to convert your customers into members so that they'll begin to feel an affinity to your business.
After your customers have joined, then you can begin the up-selling process by providing tempting offers to move up the membership ladder. Look at your first membership level as a "loss-leader."
The real benefit of Membership programs:
Renewals is the real benefit a membership programs can bring to your business and the key to membership program success. It's one thing to package your services into a membership program and sell it, but
sustaining your subscriber base by getting customers to renew is another. If you don't provide value and keep your promises during your customer's membership, it will be difficult to get them to renew.
The key to getting your members to renew is to provide value beyond what was promised and to offer incentives to renew. The incentives should have a low cost to you and a high perceived value from your member. For instance, suppose you offer a paid newsletter service. Your renewal offer might include several free teleseminars or a free discount coupons from a popular vendor that advertises in your newsletter.
Another option to improve your renewal rate is to sell renewals upfront by offering multiple period memberships at a discounted price. For instance, when you offer a one year VIP membership at your restaurant, up-sell the offer with a second year at a 35% discount.
Locking your customers into multiple period membership programs should be an important goal. Because your customer was willing to buy the first period, they'll be inclined to consider multiple years…if the offer is right. A powerful hidden benefit of locking your customer into a long-term membership program is that you'll also be locking out your competition!
The Magic of membership cards:
What's great about membership cards in addition to holding the customer or member's information and transactions history and info. is that they serve as a constant reminder to customers to take advantage of their membership so it prompts them to use it. Some businesses actually create their own charge cards. several statistics showed that store cardholders spend 50% more each year with that retailer than customers not carrying the retailer's charge card.
Membership programs are a great marketing tool that can help your business to sell more , increase customer loyalty, provide constant and predictable income , generate more revenue per customer and get you more referrals. a final word of advise is to take advantage of this effective tool, bundle your products or services into a membership program and make it easy for your customers to enroll, use a physical card not just for data tracking but to remind and prompt your customers to use it and take advantage of the privileges.
for more on marketing, check out our Marketing Essentials instant download training package.

34 Full Courses & 6 Mini Courses
Get all available programs
& save ...!!
Price: $4499.95 $2995.95
Great Value For Money
Read More
Are You a
Visual, Auditory or Kinaesthetic ?
How well do you
cope under
pressure? .
Are You A
people person?
.
Forward looking, or
Stuck in a time
warp?
How content
are you?
.
How soft-centred
are you?
.
Find Out
Your Leadership
Style
How
Emotionally intelligent are You ?
| | | |
| --- | --- | --- |
| | + | |
The Presenter-Trainer Package®
Train The Trainer
Presenting With Impact
Price: $359.95 $299.95
SAVE $59.95
Read More

Retail Excellence Series®
3 Complete Courseware
Packages in 1
Frontline Retail Selling Skills
Retail Sales Planning & Forecasting
Passionate Retail Experts
Price: $539.855 $349.95
Pay for 2 Get 1 Free
Read More

Sales excellence series®
3 Complete Courseware
Packages in 1
Sales Management
Professional Selling Skills
Sales Territory Planning & Routing
Price: $539.855 $349.95
Pay for 2 Get 1 Free
Read More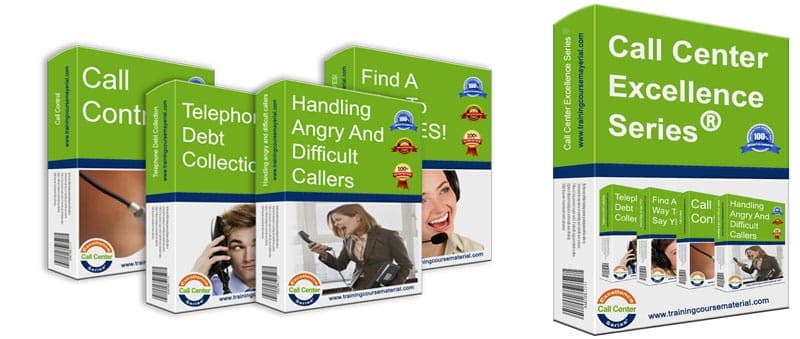 Call Center Excellence Series®
4 Complete Courseware
Packages in 1
Handling angry and difficult callers
Call control
Find a way to say YES!
Successful telephone debt collection
Price: $719.95 $449.95
Pay for 2 programs and Get 2 programs Free
Read More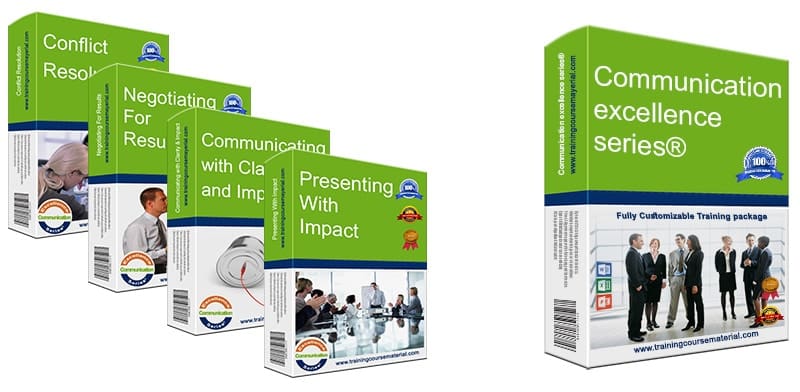 Communication Excellence Series®
4 Complete Courseware
Packages in 1
Communicating with clarity and impact
Negotiating for results
Conflict resolution
Presenting With Impact
Price: $719.95 $449.95
Pay for 2 programs and Get 2 programs Free
Read More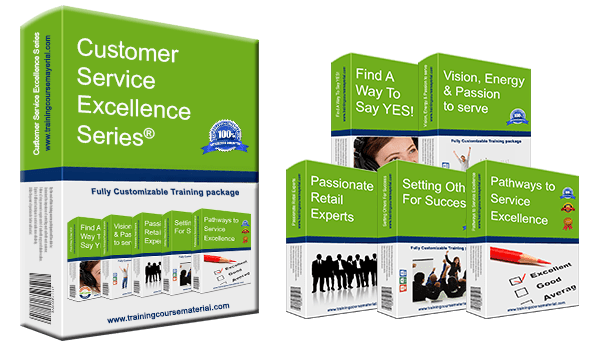 Customer Service Excellence Series®
5 Complete Courseware
Packages in 1
Vision, Energy & Passion To Serve
Pathways to service excellence
Find a way to say YES!
Passionate Retail Experts
Setting others up for success
Price: $899.75 $599.95
Pay for 3 Get 2 Free
Read More
Instant Download
Training packages
All you need
to deliver a great training!
Our training material packages come with all you need to provide
a professional and accelerated learning solution with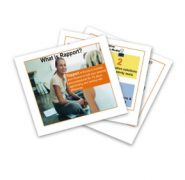 High Impact
Power Point Slide Deck
To support immersive learning, a high impact professionally designed power point slide deck to engage trainees at all levels.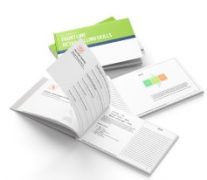 Student
Workbook
A comprehensive reference workbook you can give out to your class participants as a quick future reference.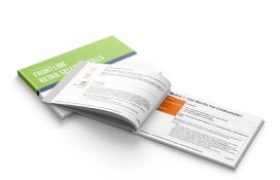 Trainer
Guide
With step-by-step clear directions with tips and suggestions on what to say and how to present each slide.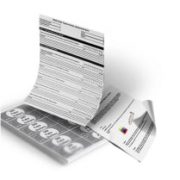 Activity
/Exercise Sheets
Various training material and support documents to help you both explain and debrief the different exercises, activities and games Plus a fun final Jeopardy style review game as a fun ending for your training program.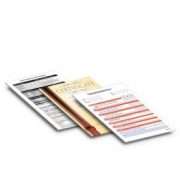 Additional
Support Documents
To ensure you have all you need to deliver a complete and professional training program, additional supporting documents are included with each full course material package. From training evaluation forms to 5 different certificate templates that you can edit and hand out to your participants at the end of your training.
Job Aids
& Forms
Specific forms designed to extend and reinforce the training that participants can utilize back on the job to help them apply the new learned concepts (Select training material packages)
Get all our training Packages
and Save!

Save over $1500 and Get each full program for under $99.00 & 6 Mini Courses free