Packaging products to increase sales
Packaging products to increase sales
Branding and Marketing
Hits: 11405
It's a fact that packaging products and by packaging here we do not mean to have them nicely wrapped with colorful ribbons and glitter. What we mean by packaging here is bundling products together or giving your offer as a package or more than one product together in a bundle. A good example of this is the "Combo meal" in fast food restaurants where instead of buying a sandwich and a drink and fries separately, they are offered to you as a complete package a "Combo" Packaging is very common in the fast food industry that it represents over 90% of fast food sales.
Other than the obvious benefit of increasing your overall sales that the packaging or bundling strategy does it also gives you a number of other benefits such as:

1- Lowers marketing costs by advertising multiple types of products or services in one ad
2- Up sell your customer by default (Packaging is a form of up selling )
3- Can be easily used to sell slow moving products or services
4- Exposes your products and services to a new list of prospects in a joint venture
5- Gives a higher perceived value of your products and services to your customers.
There are many benefits of the bundling or packaging strategy if you apply it to your business and can have a great impact on your sales and can also help you decrease your marketing costs. The main idea is to create packaged or bundled deals of your products and services for your customers and offer them at a lower price than what the customer would pay if he/she purchased them individually which actually also plays psychological tricks on the mind of your customer and gives him/her the perception that he/she will need that additional item or items anyway. Makes your customer believe that this is a good deal and i'm getting more than one item for a lower price so will end up saving money.
Some important Packaging/Bundling rules:
1- Your packaged offer should solve a specific problem. Your customers will only buy it if it solves a problem they have or fulfill a specific need.
2- Packaging and Bundling is all about empowering your customers or offering different choices. providing different choices and options with increasing value is what motivates customers to " up sell " themselves by choosing the more expensive option.
3- Try naming your different packages names that shows value for example silver, gold, platinum notice how each word in this examples shows increasing value.
4- The additional products or services that are added on to the basic package have a low cost to you. The "add-ons" need to be cost effective because the incremental price you are charging needs to provide significant margin to the package.
Packaging creates a higher perceived value by increasing the benefits and lowering the unit price. Examples of packaging and bundling are everywhere. If you don't have enough products or services to create a package offer, consider joint venturing with a company that does. Remember to provide a strong up-sell option in your package by offering multiple options, each progressively more valuable and expensive.
For more on marketing, check out our instant download training package: Marketing Essentials

34 Full Courses & 6 Mini Courses
Get all available programs
& save ...!!
Price: $4499.95 $2995.95
Great Value For Money
Read More
Are You a
Visual, Auditory or Kinaesthetic ?
How well do you
cope under
pressure? .
Are You A
people person?
.
Forward looking, or
Stuck in a time
warp?
How content
are you?
.
How soft-centred
are you?
.
Find Out
Your Leadership
Style
How
Emotionally intelligent are You ?
| | | |
| --- | --- | --- |
| | + | |
The Presenter-Trainer Package®
Train The Trainer
Presenting With Impact
Price: $359.95 $299.95
SAVE $59.95
Read More

Retail Excellence Series®
3 Complete Courseware
Packages in 1
Frontline Retail Selling Skills
Retail Sales Planning & Forecasting
Passionate Retail Experts
Price: $539.855 $349.95
Pay for 2 Get 1 Free
Read More

Sales excellence series®
3 Complete Courseware
Packages in 1
Sales Management
Professional Selling Skills
Sales Territory Planning & Routing
Price: $539.855 $349.95
Pay for 2 Get 1 Free
Read More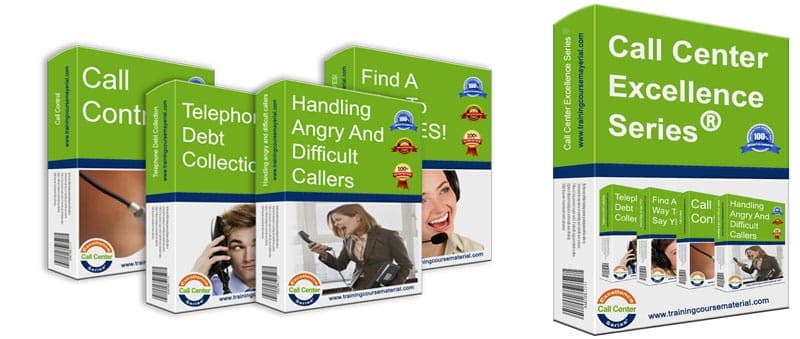 Call Center Excellence Series®
4 Complete Courseware
Packages in 1
Handling angry and difficult callers
Call control
Find a way to say YES!
Successful telephone debt collection
Price: $719.95 $449.95
Pay for 2 programs and Get 2 programs Free
Read More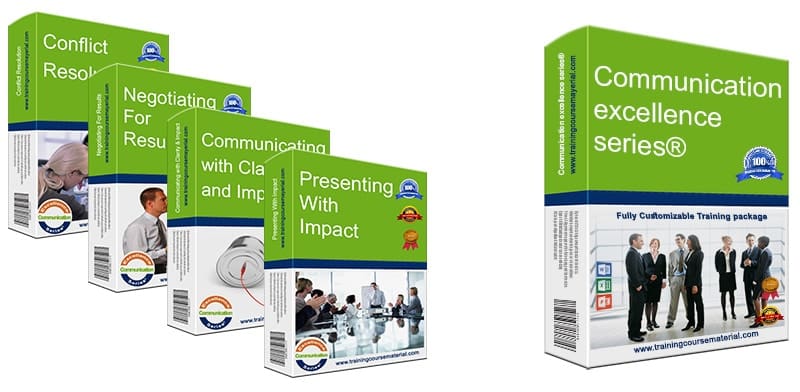 Communication Excellence Series®
4 Complete Courseware
Packages in 1
Communicating with clarity and impact
Negotiating for results
Conflict resolution
Presenting With Impact
Price: $719.95 $449.95
Pay for 2 programs and Get 2 programs Free
Read More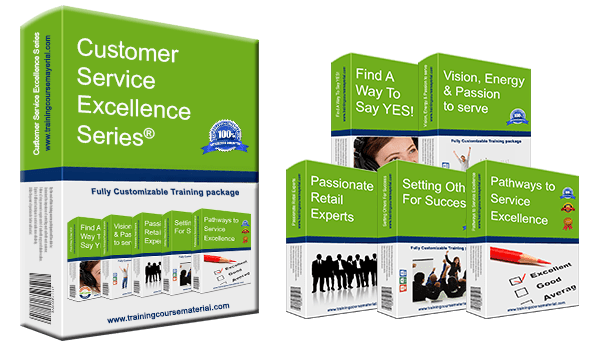 Customer Service Excellence Series®
5 Complete Courseware
Packages in 1
Vision, Energy & Passion To Serve
Pathways to service excellence
Find a way to say YES!
Passionate Retail Experts
Setting others up for success
Price: $899.75 $599.95
Pay for 3 Get 2 Free
Read More
Instant Download
Training packages
All you need
to deliver a great training!
Our training material packages come with all you need to provide
a professional and accelerated learning solution with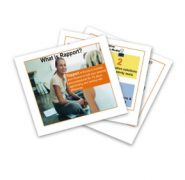 High Impact
Power Point Slide Deck
To support immersive learning, a high impact professionally designed power point slide deck to engage trainees at all levels.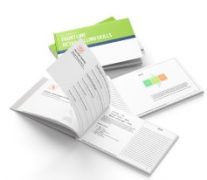 Student
Workbook
A comprehensive reference workbook you can give out to your class participants as a quick future reference.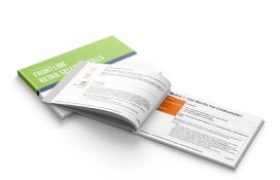 Trainer
Guide
With step-by-step clear directions with tips and suggestions on what to say and how to present each slide.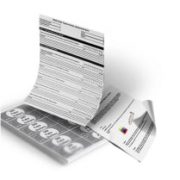 Activity
/Exercise Sheets
Various training material and support documents to help you both explain and debrief the different exercises, activities and games Plus a fun final Jeopardy style review game as a fun ending for your training program.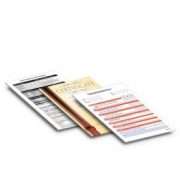 Additional
Support Documents
To ensure you have all you need to deliver a complete and professional training program, additional supporting documents are included with each full course material package. From training evaluation forms to 5 different certificate templates that you can edit and hand out to your participants at the end of your training.
Job Aids
& Forms
Specific forms designed to extend and reinforce the training that participants can utilize back on the job to help them apply the new learned concepts (Select training material packages)
Get all our training Packages
and Save!

Save over $1500 and Get each full program for under $99.00 & 6 Mini Courses free