Overcoming Barriers to communication
Communication Skills
Hits: 23380
What to do?
There are a number of things you can do to overcome the common barriers to effective communication;
1. Think before you speak
2. Check understanding
3. Consider common communication pitfalls to avoid
1. Think before you speak

Before communicating always consider Rudyard Kipling's, "Six Honest Serving Men".
"I keep six honest serving men
They taught me all I know
Their names are WHAT and WHY and WHEN
And HOW and WHERE and WHO".
What:
• What do I need to communicate?
• Do I understand what it is myself?
• How much does the receiver of the message already know?
When:
• When is the best time to communicate?
• Allow enough time to communicate the message and check it has been understood.
Why:
• Do I know why I am communicating?
• If I don't, then they certainly won't!
How:
• Is my chosen method of communicating the most effective way?
Where:
• Care is needed to avoid distractions.
Who:
• Am I the best person to give this message?
2. Check Understanding
Many errors occur simply because communicators have assumed people understand what has been said and have therefore failed to check.
More often than not when you ask people if they have understood what you have communicated, they will answer "yes", just because they do not wish to appear stupid.
Use of open questions will avoid the "yes" or "no" answer and effectively check that the receiver of your message has understood it.
One way of "opening" a question is to Start with one of "Kiplings Six".
For example: "What did you think of the exhibition you have just visited?"
You just might receive some really important feedback that can improve the customer service we give in future.
3. Pitfalls to Avoid when Communicating Messages
As the Sender – DON'T

• Make assumptions that the person hears what you are sending out.
• Use inappropriate language or jargon.
• Fidget or distract with diverting mannerisms.
• Make it sound like a test when checking understanding, eg, 'Can you repeat back what I have just told you?'
As the Receiver – DON'T

• Change the subject.
• Jump to conclusions. Check out that what you have heard is accurate.
• Let forming your next question interfere with your listening.
• Latch on to minor details whilst ignoring the main point.
• Switch off too early.
• Send or receive in a win-lose style. Work for outcomes where senders and receivers are equally satisfied.
For more on communication skills, Check our our Communicating With Clarity & Impact Instant Download Training Material Package.

34 Full Courses & 6 Mini Courses
Get all available programs
& save ...!!
Price: $4499.95 $2995.95
Great Value For Money
Read More
Are You a
Visual, Auditory or Kinaesthetic ?
How well do you
cope under
pressure? .
Are You A
people person?
.
Forward looking, or
Stuck in a time
warp?
How content
are you?
.
How soft-centred
are you?
.
Find Out
Your Leadership
Style
How
Emotionally intelligent are You ?
| | | |
| --- | --- | --- |
| | + | |
The Presenter-Trainer Package®
Train The Trainer
Presenting With Impact
Price: $359.95 $299.95
SAVE $59.95
Read More

Retail Excellence Series®
3 Complete Courseware
Packages in 1
Frontline Retail Selling Skills
Retail Sales Planning & Forecasting
Passionate Retail Experts
Price: $539.855 $349.95
Pay for 2 Get 1 Free
Read More

Sales excellence series®
3 Complete Courseware
Packages in 1
Sales Management
Professional Selling Skills
Sales Territory Planning & Routing
Price: $539.855 $349.95
Pay for 2 Get 1 Free
Read More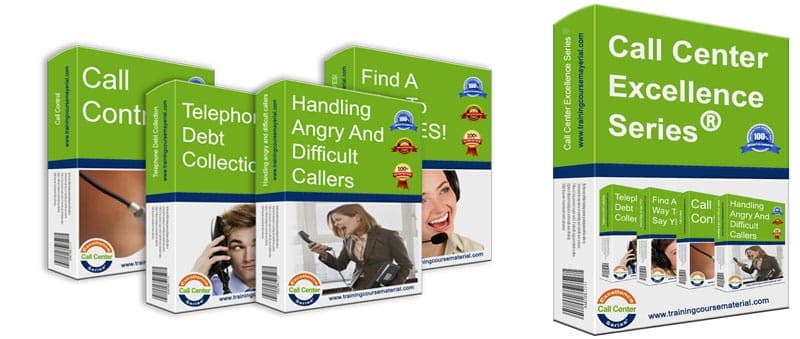 Call Center Excellence Series®
4 Complete Courseware
Packages in 1
Handling angry and difficult callers
Call control
Find a way to say YES!
Successful telephone debt collection
Price: $719.95 $449.95
Pay for 2 programs and Get 2 programs Free
Read More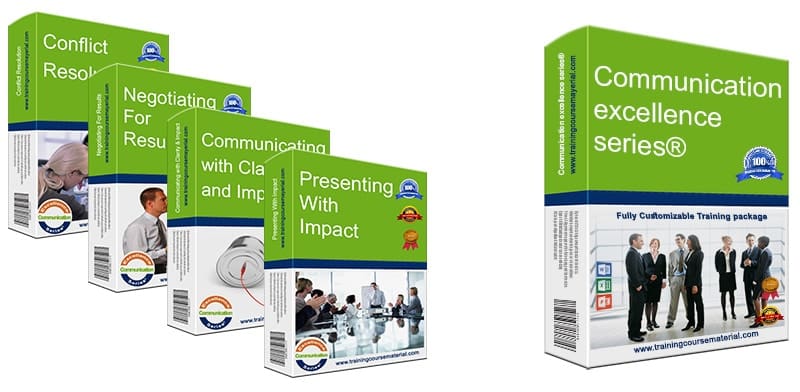 Communication Excellence Series®
4 Complete Courseware
Packages in 1
Communicating with clarity and impact
Negotiating for results
Conflict resolution
Presenting With Impact
Price: $719.95 $449.95
Pay for 2 programs and Get 2 programs Free
Read More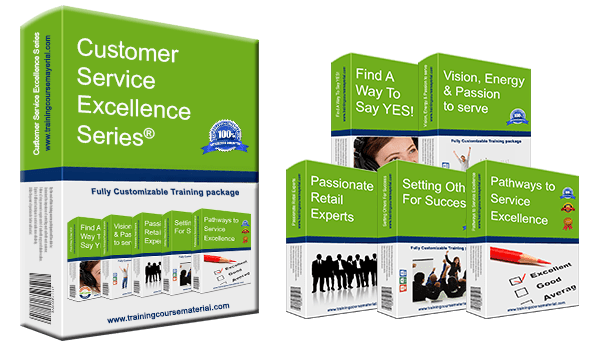 Customer Service Excellence Series®
5 Complete Courseware
Packages in 1
Vision, Energy & Passion To Serve
Pathways to service excellence
Find a way to say YES!
Passionate Retail Experts
Setting others up for success
Price: $899.75 $599.95
Pay for 3 Get 2 Free
Read More
Instant Download
Training packages
All you need
to deliver a great training!
Our training material packages come with all you need to provide
a professional and accelerated learning solution with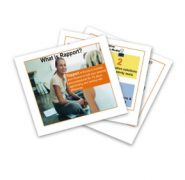 High Impact
Power Point Slide Deck
To support immersive learning, a high impact professionally designed power point slide deck to engage trainees at all levels.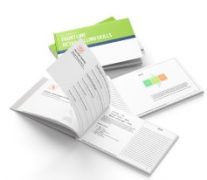 Student
Workbook
A comprehensive reference workbook you can give out to your class participants as a quick future reference.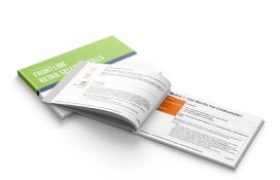 Trainer
Guide
With step-by-step clear directions with tips and suggestions on what to say and how to present each slide.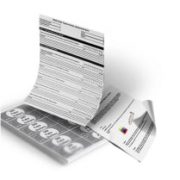 Activity
/Exercise Sheets
Various training material and support documents to help you both explain and debrief the different exercises, activities and games Plus a fun final Jeopardy style review game as a fun ending for your training program.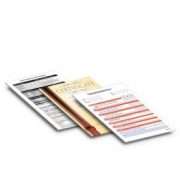 Additional
Support Documents
To ensure you have all you need to deliver a complete and professional training program, additional supporting documents are included with each full course material package. From training evaluation forms to 5 different certificate templates that you can edit and hand out to your participants at the end of your training.
Job Aids
& Forms
Specific forms designed to extend and reinforce the training that participants can utilize back on the job to help them apply the new learned concepts (Select training material packages)
Get all our training Packages
and Save!

Save over $1500 and Get each full program for under $99.00 & 6 Mini Courses free