De Bono's 6 thinking hats
Creativity & Critical thinking
Hits: 23163
Overview of the Six Thinking Hats
Dr Edward de Bono studied medicine at Christ Church, Oxford, where he gained an honours degree in psychology and physiology. He also holds a PhD from Cambridge and has held appointments at the universities of Oxford, London, Cambridge and Harvard. He is the originator of what is known as 'lateral thinking', which is a way of thinking about problems by changing the assumptions you are working under, or by questioning what you think are the problem's component parts. De Bono described that when people approach problem solving they do so from quite different perspectives. He associated this with people wearing different hats and identified the different approaches by using hats of different colours. This led to the development of his, now famous, six thinking hats theory. The theory suggests that people tend to have a preferred approach to problem solving, i.e. they tend to wear a particular hat. It concludes that, by imagining that you are wearing different hats, you will be encouraged to think about the problem from different perspectives. This results in a wider range of possible solutions.
Below is a quick overview of each of the thinking hats approach when facing problems and their typical answers:
Green Hat
Thinking Style: Green hat thinkers tend to be creative, imaginative and look for alternatives, but may not think through the consequences.
Typical response:"Of course we could always buy a new system."

Blue Hat
Thinking Style:Blue hat thinkers tend to see things from a broader perspective. They have the ability to stand back and look at the bigger picture.
Typical response:"When the new system is in place it will speed up the process throughout the whole business."

Yellow Hat
Thinking Style:Yellow hat thinkers tend to be positive, constructive and look for ways of making something work.
Typical response:"I'm sure we can make the old system work if we all put our minds to it."

Black Hat
Thinking Style:Black hat thinkers tend to play 'devil's advocate' and point out what might go wrong.
Typical Response :"The new system is only half the solution, what about late deliveries from our supplier, it won't resolve that problem?"

White Hat
Thinking Styles:White hat thinkers tend to focus on facts, figures and logic.
Typical response:"How much is the new system going to cost and how many customers can it cope with?"

Red Hat
Thinking Style:Red hat thinkers tend to use hunches, 'gut feel', intuition and previous experience.
Typical response:"I have a good feeling about it, I'm sure it will work because I've seen it work for other businesses."
The 6 thinking hats do not just apply to problem solving. We find ourselves 'wearing' different hats in lots of everyday situations.
Which hat are you wearing now?
For more creativity tools, check out our Creative Problem Solving & Decision Making instant download training package.

34 Full Courses & 6 Mini Courses
Get all available programs
& save ...!!
Price: $4499.95 $2995.95
Great Value For Money
Read More
Are You a
Visual, Auditory or Kinaesthetic ?
How well do you
cope under
pressure? .
Are You A
people person?
.
Forward looking, or
Stuck in a time
warp?
How content
are you?
.
How soft-centred
are you?
.
Find Out
Your Leadership
Style
How
Emotionally intelligent are You ?
| | | |
| --- | --- | --- |
| | + | |
The Presenter-Trainer Package®
Train The Trainer
Presenting With Impact
Price: $359.95 $299.95
SAVE $59.95
Read More

Retail Excellence Series®
3 Complete Courseware
Packages in 1
Frontline Retail Selling Skills
Retail Sales Planning & Forecasting
Passionate Retail Experts
Price: $539.855 $349.95
Pay for 2 Get 1 Free
Read More

Sales excellence series®
3 Complete Courseware
Packages in 1
Sales Management
Professional Selling Skills
Sales Territory Planning & Routing
Price: $539.855 $349.95
Pay for 2 Get 1 Free
Read More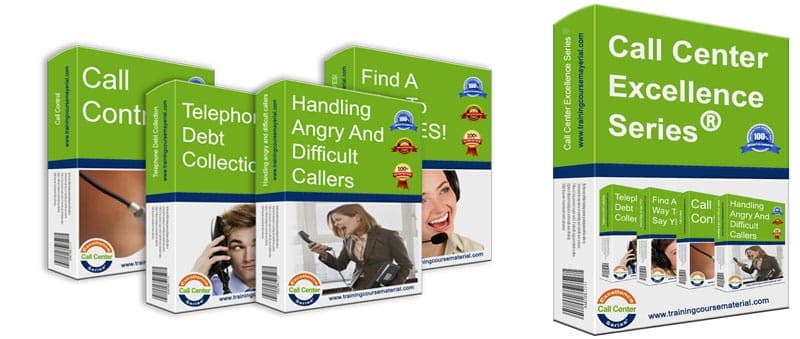 Call Center Excellence Series®
4 Complete Courseware
Packages in 1
Handling angry and difficult callers
Call control
Find a way to say YES!
Successful telephone debt collection
Price: $719.95 $449.95
Pay for 2 programs and Get 2 programs Free
Read More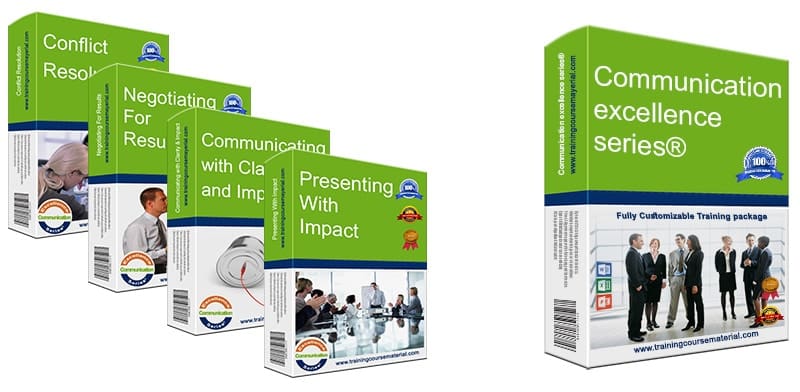 Communication Excellence Series®
4 Complete Courseware
Packages in 1
Communicating with clarity and impact
Negotiating for results
Conflict resolution
Presenting With Impact
Price: $719.95 $449.95
Pay for 2 programs and Get 2 programs Free
Read More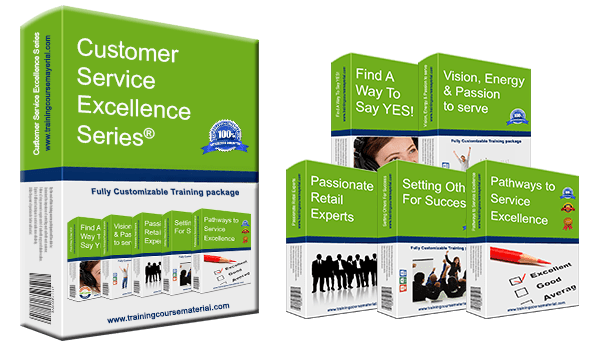 Customer Service Excellence Series®
5 Complete Courseware
Packages in 1
Vision, Energy & Passion To Serve
Pathways to service excellence
Find a way to say YES!
Passionate Retail Experts
Setting others up for success
Price: $899.75 $599.95
Pay for 3 Get 2 Free
Read More
Instant Download
Training packages
All you need
to deliver a great training!
Our training material packages come with all you need to provide
a professional and accelerated learning solution with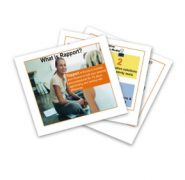 High Impact
Power Point Slide Deck
To support immersive learning, a high impact professionally designed power point slide deck to engage trainees at all levels.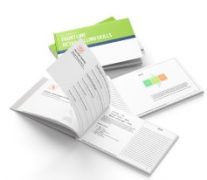 Student
Workbook
A comprehensive reference workbook you can give out to your class participants as a quick future reference.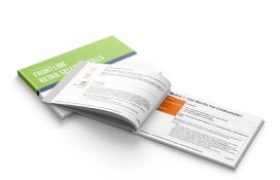 Trainer
Guide
With step-by-step clear directions with tips and suggestions on what to say and how to present each slide.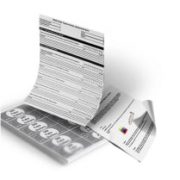 Activity
/Exercise Sheets
Various training material and support documents to help you both explain and debrief the different exercises, activities and games Plus a fun final Jeopardy style review game as a fun ending for your training program.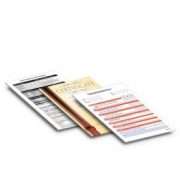 Additional
Support Documents
To ensure you have all you need to deliver a complete and professional training program, additional supporting documents are included with each full course material package. From training evaluation forms to 5 different certificate templates that you can edit and hand out to your participants at the end of your training.
Job Aids
& Forms
Specific forms designed to extend and reinforce the training that participants can utilize back on the job to help them apply the new learned concepts (Select training material packages)
Get all our training Packages
and Save!

Save over $1500 and Get each full program for under $99.00 & 6 Mini Courses free