Brainstorming & Reverse brainstorming
Creativity & Critical thinking
Hits: 11337
What is Brainstorming?
Brainstorming is a tool for generating a large number of ideas in a short time and is therefore a very useful technique for dealing with challenging problems. Although a problem can be brainstormed by one person on his own, it is far more effective for a group of people to do so. A group has more experience to draw on and is able to look at a problem in different ways. Experience shows that the optimum number of such a group is twelve members. A Brainstorming group should always have a leader whose responsibility it is to stimulate lots of ideas, guide the group through all the steps and keep people sticking to the four principles below:
The Four Principles to Brainstorming: Success at brainstorming depends on the following four guidelines:
A. Suspend Judgment
Never criticise the ideas being produced whether they are yours or other people's.
B. Freewheel
Let yourself go and don't be worried about putting forward wild or silly ideas. C. Quantity
It's quantity that counts at this stage, not quality. Generate a lot of ideas it's quantity that matters, you can examine the quality of each idea on later stages.
D. Cross Fertilize
Pick up other people's ideas and suggest others leading from them.
The Brainstorming Technique
Stage 1 Problem Formation
Step 1 Select the problem
The group agrees on an issue or problem to be brainstormed.
Step 2 Restate the problem
This is the next step because people are nearly always too close to their problems and see them from only one viewpoint. Restating the problem forces the group to stand back and see it from every angle. All the restatements are prefaced by "How to..". This ensures that the group doesn't go hunting round for solutions just yet. All the restatements are written down and plenty of time is allowed for questions and discussion so that everyone understands the problem and the restatements. Step 3 Select a restatement
When at least six restatements have been proposed, one, or perhaps two combined, is selected for brainstorming and written down for all to see. It s prefaced by "In how many ways can we…" because the group is now ready to look for solutions.
Stage 2 Producing Proposals for Solution
Step 4 Warm up
Immediately prior to brainstorming the problem, the group members have a short, sharp interchange on something quite different to loosen everyone up and get their minds freewheeling. The group leader gives them the subject, reminds them of the four principles and then encourages them to produce as many ideas as they can in a space of two minutes. Nothing is written down.
Step 5 Brainstorm the restated problem
Group members throw in as many ideas as they can about solving the restate problem. The more the merrier. The leader helps the group to comply with the four principles to ensure success. As the ideas come thick and fast, the leader writes them up on large sheets, numbering each one.
Step 6 Use the wildest idea technique
The group chooses a really wild and apparently senseless idea for the written lists. The leader writes it up on a clean sheet headed "the wildest idea" and then asks for ideas to be developed from it. New and useful ideas can often come from this.
Stage 3 Forecasting Consequences and Selecting Proposals
Step 7 Evaluate the ideas produced
A good session should produce well over a hundred ideas, which then need to be evaluated. This can be done by the leader, and one or two others, or by the whole group. Using the total group, however, can be very time-consuming. Criteria for evaluation should be produced (eg cost, acceptability) and the ideas produced classified into manageable groupings of between 20 and 40 ideas. An idea can be allocated to one or more groups.
Each group of ideas is then evaluated using the criteria previously devised. Ideas meeting none of the criteria are dropped straight away. The rest are examined and the best ideas identified. A selection is made which will be acted upon.
Reverse Brainstorming
Reverse brainstorming is a useful activity to use when there is lots of negativity in the room or about the topic/subject you are talking about. It involves reversing normal brainstorming and defining the statement which is to be brainstormed in the negative e.g. If you wanted to brainstorm ideas of how to maximise attendance on training programmes; the statement to be brainstormed using the reverse technique would be 'How to make sure nobody attends training programmes'. like bringing a boring trainer, no breaks in the training , non-airconditioned room, no food or drinks ...etc.
By stating the problem in the negative it taps into the creativity of the human mind and allows an escape route for lots of built up frustration and negativity.
For more creative thinking tools, check out our Creative Problem Solving & Decision Making instant download training pacakge.

34 Full Courses & 6 Mini Courses
Get all available programs
& save ...!!
Price: $4499.95 $2995.95
Great Value For Money
Read More
Are You a
Visual, Auditory or Kinaesthetic ?
How well do you
cope under
pressure? .
Are You A
people person?
.
Forward looking, or
Stuck in a time
warp?
How content
are you?
.
How soft-centred
are you?
.
Find Out
Your Leadership
Style
How
Emotionally intelligent are You ?
| | | |
| --- | --- | --- |
| | + | |
The Presenter-Trainer Package®
Train The Trainer
Presenting With Impact
Price: $359.95 $299.95
SAVE $59.95
Read More

Retail Excellence Series®
3 Complete Courseware
Packages in 1
Frontline Retail Selling Skills
Retail Sales Planning & Forecasting
Passionate Retail Experts
Price: $539.855 $349.95
Pay for 2 Get 1 Free
Read More

Sales excellence series®
3 Complete Courseware
Packages in 1
Sales Management
Professional Selling Skills
Sales Territory Planning & Routing
Price: $539.855 $349.95
Pay for 2 Get 1 Free
Read More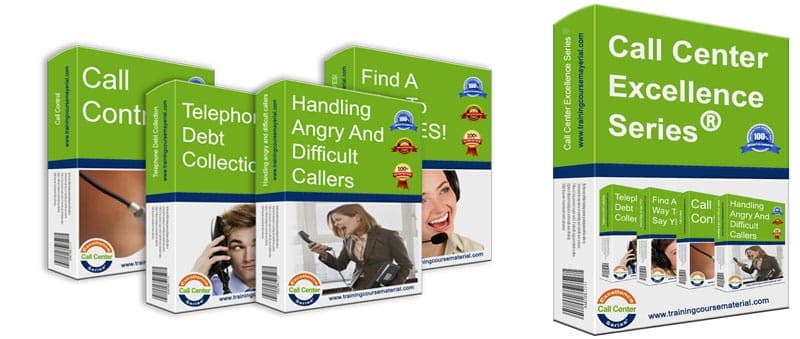 Call Center Excellence Series®
4 Complete Courseware
Packages in 1
Handling angry and difficult callers
Call control
Find a way to say YES!
Successful telephone debt collection
Price: $719.95 $449.95
Pay for 2 programs and Get 2 programs Free
Read More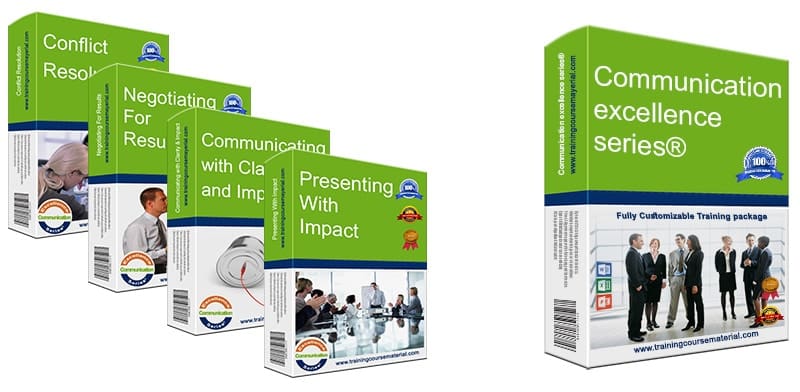 Communication Excellence Series®
4 Complete Courseware
Packages in 1
Communicating with clarity and impact
Negotiating for results
Conflict resolution
Presenting With Impact
Price: $719.95 $449.95
Pay for 2 programs and Get 2 programs Free
Read More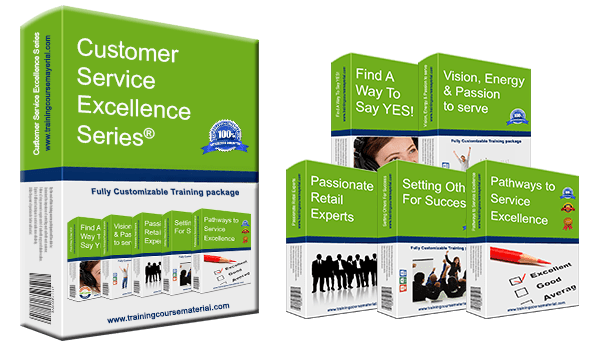 Customer Service Excellence Series®
5 Complete Courseware
Packages in 1
Vision, Energy & Passion To Serve
Pathways to service excellence
Find a way to say YES!
Passionate Retail Experts
Setting others up for success
Price: $899.75 $599.95
Pay for 3 Get 2 Free
Read More
Instant Download
Training packages
All you need
to deliver a great training!
Our training material packages come with all you need to provide
a professional and accelerated learning solution with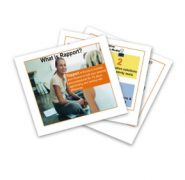 High Impact
Power Point Slide Deck
To support immersive learning, a high impact professionally designed power point slide deck to engage trainees at all levels.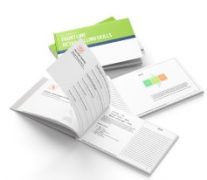 Student
Workbook
A comprehensive reference workbook you can give out to your class participants as a quick future reference.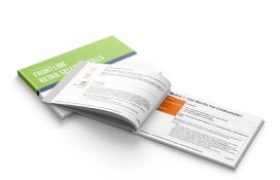 Trainer
Guide
With step-by-step clear directions with tips and suggestions on what to say and how to present each slide.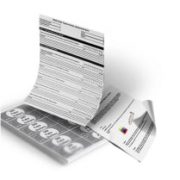 Activity
/Exercise Sheets
Various training material and support documents to help you both explain and debrief the different exercises, activities and games Plus a fun final Jeopardy style review game as a fun ending for your training program.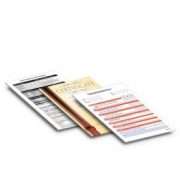 Additional
Support Documents
To ensure you have all you need to deliver a complete and professional training program, additional supporting documents are included with each full course material package. From training evaluation forms to 5 different certificate templates that you can edit and hand out to your participants at the end of your training.
Job Aids
& Forms
Specific forms designed to extend and reinforce the training that participants can utilize back on the job to help them apply the new learned concepts (Select training material packages)
Get all our training Packages
and Save!

Save over $1500 and Get each full program for under $99.00 & 6 Mini Courses free