Coaching & Feedback
Hits: 11506
People Have a Rigth to Their Individuality
All these tips spring from the fundamental principle that people have a right to their individuality and integrity. Except in the special case of a training programme, that also implies that feedback should only be offered in private.
1. Offer feedback on observed behaviour, not on perceived attitudes
(what you saw him or her do, rather than what you think he or she was thinking or intending): "You were gripping that pencil so tightly that your knuckles went white" rather than " You were very aggressive".
2. Offer a description of what you saw and how you felt, rather than a judgment
"When you started to shout, I felt anxious" rather than " it was a bad idea to raise your voice".
3. Focus on behaviour which can be changed.
It is not helpful to tell someone that a nervous twitch is a distraction. A persistent drumming on the table or tapping of the foot, however, can be eliminated and so could be commented on.
4. Choose which aspects are most important and limit yourself to those.
Nobody can concentrate on changing everything at once. Set priorities mentally before you give feedback and concentrate on the first few items on the list preferrably go through them one by one.
5. Ask questions rather than make statements.
That approach both allows individuals the responsibility of reaching their own conclusions and forces them to think about the issues. "How else could you have reacted when ......?" rather than "You should have ........!" (The previous examples could all useful be re-worded as questions: "How do you think it looked to the interviewee when he saw you gripping your pencil so tightly that your knuckles went white?" and "How did she react when you started to shout?"). See also: Asking Questions

6. Set the ground rules in advance.
Tell people by what criteria they are to be judged. In any training event, let them know that there will be no report-back into the organisation of what happens and that they are free to experiment and make mistakes.
7. Comment on the thing that an individual did well, as well as areas for improvement.
It is important that people feel empowered by the process if they are to work positively at improving their performance. If the experience leaves them feeling inadequate or humiliated, it will have been counter-productive. Because of our cultural inhibitions about accepting praise, it is particularly important that praise is sincere and given about very specific items of behaviour. In that way, even the most diffident person will accept it.
8. Relate all your feedback to specific items of behaviour: don't waffle about general feelings or impressions.
"I liked it when you went to the door to let him in" rather than "There was a very friendly atmosphere". In that way, somebody can learn from it and do it again. You cannot "do" a friendly atmosphere again, but you can go to the door and let somebody in.
9. Observe everyone's personal limits.
If you offer too much feedback at once, the shutters will go up in your victim's face. From just before that moment onward, you will be counter-acting any help that you have given.
10. Before offering any feedback, consider its value for the receiver.
If there is none, keep quiet.
BUT
Break any of the commandments of feedback, providing that you understand the rule and its purpose and that what you propose to do is going to achieve your ends more efficiently, with due regard to the individual.
For more on coaching and feedback, check out our instant download training package: Coaching People For Better Performance.

34 Full Courses & 6 Mini Courses
Get all available programs
& save ...!!
Price: $4499.95 $2995.95
Great Value For Money
Read More
Are You a
Visual, Auditory or Kinaesthetic ?
How well do you
cope under
pressure? .
Are You A
people person?
.
Forward looking, or
Stuck in a time
warp?
How content
are you?
.
How soft-centred
are you?
.
Find Out
Your Leadership
Style
How
Emotionally intelligent are You ?
| | | |
| --- | --- | --- |
| | + | |
The Presenter-Trainer Package®
Train The Trainer
Presenting With Impact
Price: $359.95 $299.95
SAVE $59.95
Read More

Retail Excellence Series®
3 Complete Courseware
Packages in 1
Frontline Retail Selling Skills
Retail Sales Planning & Forecasting
Passionate Retail Experts
Price: $539.855 $349.95
Pay for 2 Get 1 Free
Read More

Sales excellence series®
3 Complete Courseware
Packages in 1
Sales Management
Professional Selling Skills
Sales Territory Planning & Routing
Price: $539.855 $349.95
Pay for 2 Get 1 Free
Read More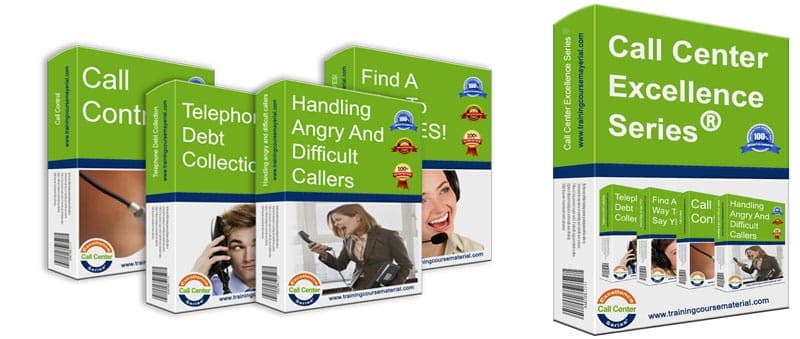 Call Center Excellence Series®
4 Complete Courseware
Packages in 1
Handling angry and difficult callers
Call control
Find a way to say YES!
Successful telephone debt collection
Price: $719.95 $449.95
Pay for 2 programs and Get 2 programs Free
Read More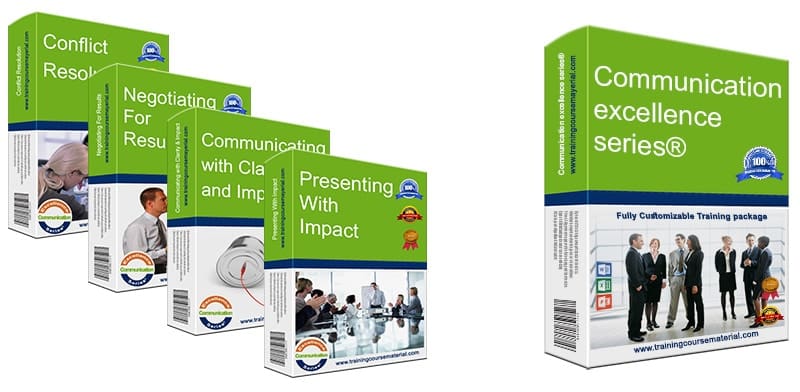 Communication Excellence Series®
4 Complete Courseware
Packages in 1
Communicating with clarity and impact
Negotiating for results
Conflict resolution
Presenting With Impact
Price: $719.95 $449.95
Pay for 2 programs and Get 2 programs Free
Read More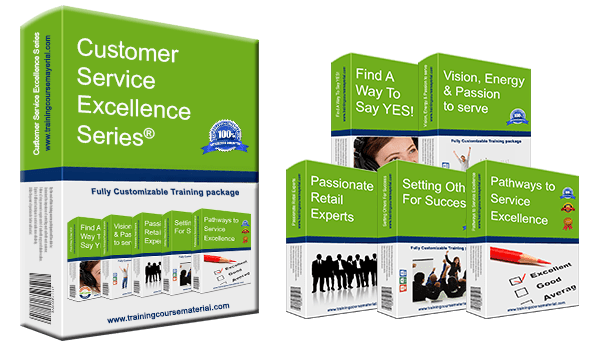 Customer Service Excellence Series®
5 Complete Courseware
Packages in 1
Vision, Energy & Passion To Serve
Pathways to service excellence
Find a way to say YES!
Passionate Retail Experts
Setting others up for success
Price: $899.75 $599.95
Pay for 3 Get 2 Free
Read More
Instant Download
Training packages
All you need
to deliver a great training!
Our training material packages come with all you need to provide
a professional and accelerated learning solution with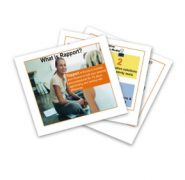 High Impact
Power Point Slide Deck
To support immersive learning, a high impact professionally designed power point slide deck to engage trainees at all levels.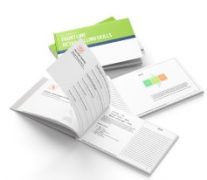 Student
Workbook
A comprehensive reference workbook you can give out to your class participants as a quick future reference.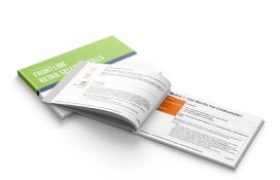 Trainer
Guide
With step-by-step clear directions with tips and suggestions on what to say and how to present each slide.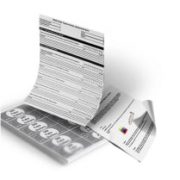 Activity
/Exercise Sheets
Various training material and support documents to help you both explain and debrief the different exercises, activities and games Plus a fun final Jeopardy style review game as a fun ending for your training program.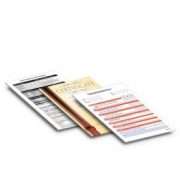 Additional
Support Documents
To ensure you have all you need to deliver a complete and professional training program, additional supporting documents are included with each full course material package. From training evaluation forms to 5 different certificate templates that you can edit and hand out to your participants at the end of your training.
Job Aids
& Forms
Specific forms designed to extend and reinforce the training that participants can utilize back on the job to help them apply the new learned concepts (Select training material packages)
Get all our training Packages
and Save!

Save over $1500 and Get each full program for under $99.00 & 6 Mini Courses free