How to disagree Agreeably
How to disagree Agreeably
Conflict resolution - Influencing - Negotiation
Hits: 20973
To Communicate assertively means having your own views. Since others will also have their views, this means that occasionally there will be disagreements. Following a simple step-by-step process will help you put your case without getting emotional, losing your integrity or losing your respect for the other person.
The Process
1. Affirmative Statement
2. Softening Statement
3. Indicate Process
4. State Reasons
5. Disagree
6. Offer a compromise
1. The Affirmative Statement
This is simply saying 'YES'. It might sound strange saying this when you are disagreeing. But if you say 'NO' the other person immediately goes into argument mode and is less likely to listen. You are using 'yes' to prepare them for what you are going to say, not to indicate that you agree with them.
2. The Softening Statement
Most people's views are influenced by their background, experience or profession. You can show that you recognise this within the context of a softening statement. Here are some examples:-
● 'As an engineer I can understand why you take such a position'
● 'As someone much older than myself, with different values, I can understand where you come from'
● 'As a man working in a traditional male environment and culture I can understand why you said that'
● 'As a manager whose prime responsibility is for output I can understand your position makes a great deal of sense'
3. Indicate Process
This explains to the person the process you will use to outline your position or your reasons for the stance that you have taken. Here are some examples:
● 'If I may, I would like to say something about that ...'
● 'Let me give you my reasons'
● 'Can I tell you how I have arrived at my viewpoint ...?'
● 'Let me outline briefly my position and the reasons for it ...'
If there is going to be any sensible discussion, the other person has to let you put your case. If they are not prepared to listen then you are wasting your time anyway, and it would be better to terminate the discussion immediately.
4. State Reasons
Here you simply give the reasons or justification for your position. This can either be done in a straightforward way, or you can give a balanced view of pros and cons, explaining why you have come down on the side that you have.
5. Do not apologise or use tentative language here.
Use the strongest language that you can, remembering to accompany what you have said with appropriate body language. Here are some examples:
● 'So I cannot agree with you'
● 'So I must disagree'
● 'So I think you are mistaken'
The two letters of the adverb 'so' are exceptionally powerful because they make your conclusions 'so' logical and natural.
6. Compromise
This is optional, but helpful if there is little or no cost to you. However, your compromise should always be conditional on your getting what you want.
For more on conflict resolution, check out our Conflict Resolution instant download training package.

34 Full Courses & 6 Mini Courses
Get all available programs
& save ...!!
Price: $4499.95 $2995.95
Great Value For Money
Read More
Are You a
Visual, Auditory or Kinaesthetic ?
How well do you
cope under
pressure? .
Are You A
people person?
.
Forward looking, or
Stuck in a time
warp?
How content
are you?
.
How soft-centred
are you?
.
Find Out
Your Leadership
Style
How
Emotionally intelligent are You ?
| | | |
| --- | --- | --- |
| | + | |
The Presenter-Trainer Package®
Train The Trainer
Presenting With Impact
Price: $359.95 $299.95
SAVE $59.95
Read More

Retail Excellence Series®
3 Complete Courseware
Packages in 1
Frontline Retail Selling Skills
Retail Sales Planning & Forecasting
Passionate Retail Experts
Price: $539.855 $349.95
Pay for 2 Get 1 Free
Read More

Sales excellence series®
3 Complete Courseware
Packages in 1
Sales Management
Professional Selling Skills
Sales Territory Planning & Routing
Price: $539.855 $349.95
Pay for 2 Get 1 Free
Read More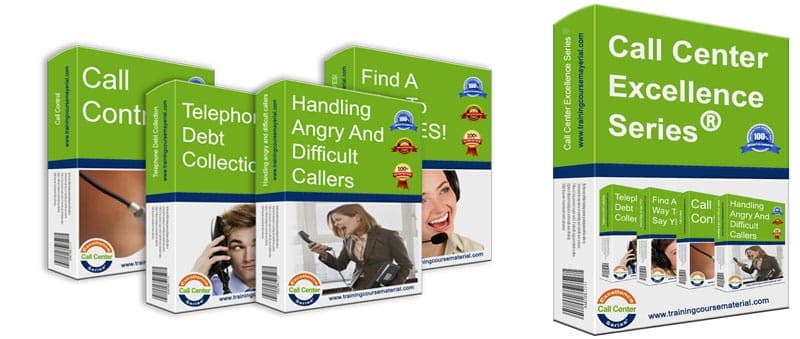 Call Center Excellence Series®
4 Complete Courseware
Packages in 1
Handling angry and difficult callers
Call control
Find a way to say YES!
Successful telephone debt collection
Price: $719.95 $449.95
Pay for 2 programs and Get 2 programs Free
Read More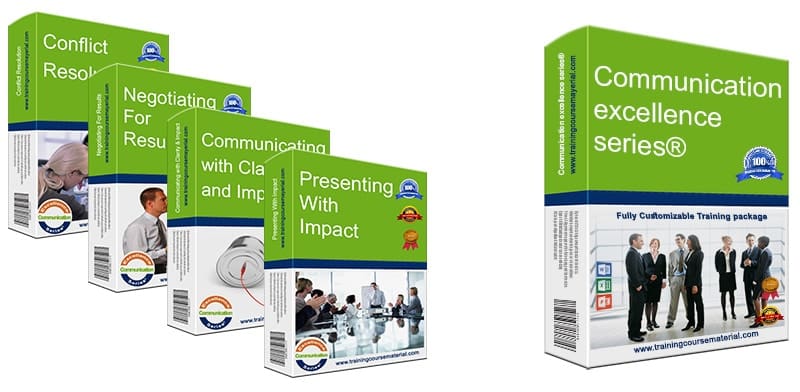 Communication Excellence Series®
4 Complete Courseware
Packages in 1
Communicating with clarity and impact
Negotiating for results
Conflict resolution
Presenting With Impact
Price: $719.95 $449.95
Pay for 2 programs and Get 2 programs Free
Read More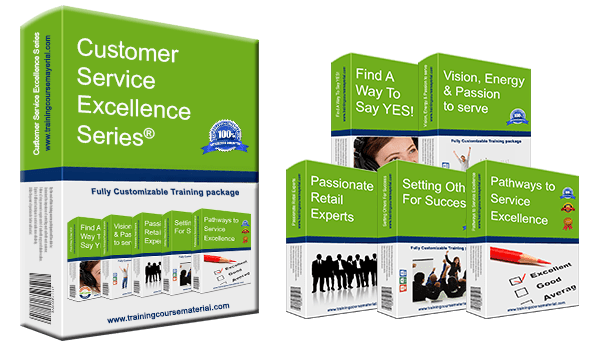 Customer Service Excellence Series®
5 Complete Courseware
Packages in 1
Vision, Energy & Passion To Serve
Pathways to service excellence
Find a way to say YES!
Passionate Retail Experts
Setting others up for success
Price: $899.75 $599.95
Pay for 3 Get 2 Free
Read More
Instant Download
Training packages
All you need
to deliver a great training!
Our training material packages come with all you need to provide
a professional and accelerated learning solution with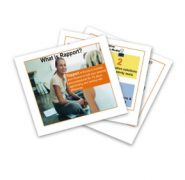 High Impact
Power Point Slide Deck
To support immersive learning, a high impact professionally designed power point slide deck to engage trainees at all levels.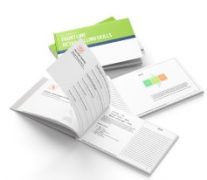 Student
Workbook
A comprehensive reference workbook you can give out to your class participants as a quick future reference.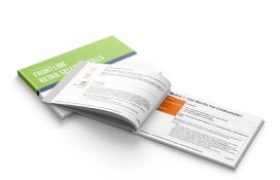 Trainer
Guide
With step-by-step clear directions with tips and suggestions on what to say and how to present each slide.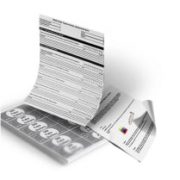 Activity
/Exercise Sheets
Various training material and support documents to help you both explain and debrief the different exercises, activities and games Plus a fun final Jeopardy style review game as a fun ending for your training program.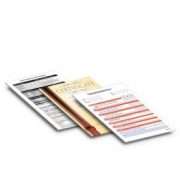 Additional
Support Documents
To ensure you have all you need to deliver a complete and professional training program, additional supporting documents are included with each full course material package. From training evaluation forms to 5 different certificate templates that you can edit and hand out to your participants at the end of your training.
Job Aids
& Forms
Specific forms designed to extend and reinforce the training that participants can utilize back on the job to help them apply the new learned concepts (Select training material packages)
Get all our training Packages
and Save!

Save over $1500 and Get each full program for under $99.00 & 6 Mini Courses free