Conflict Resolution, Influencing & Negotiation skills
Conflict resolution - Influencing - Negotiation
Hits: 30480
Pitfalls and tips for debt collectors
A carefully curated list covering 10 common pitfalls for debt collectors to avoid and 10 actionable tips for debt collection excellence.
Characteristics of a Good Debt Collector
A good debt collector possesses a combination of skills, qualities, and ethical values that enable them to effectively navigate the complexities of debt collection while maintaining professionalism, empathy, and compliance with regulations. Here are the characteristics of a good debt collector
Negotiating – Dealing with conflict
If two drivers meet in a narrow lane and neither will back up, the situation can easily develop into conflict.
The right mind set of a professional debt collector
If you are new to the debt collection business or if you have been working as a debt collector for some time, as you gain and build your experience, sooner or later you will start thinking like a professional debt collector.
Resolve conflict now
Conflict is a fact of life, it is inevitable, no matter who you are, what you do, we all encounter conflict situations either inside or outside the workplace there is no running or hiding from this fact.
Cost vs potential benefits of conflict
A condition between or among workers whose jobs are interdependent, who feel angry, who perceive the other(s) as being at fault, and who act in ways that cause a business problem is one of the definitions of workplace conflict.
Reacting to conflict
People respond differently to different conflict situations. Not only that but the same person can respond differently to each conflict situation he/she is faced with depending on the type of conflict , where the conflict is happening , the type of person whom he/she has the conflict with and whether it is a workplace conflict or a personal conflict with a family member or loved one.
Third party interventions: Mediation and Arbitration
Third party intervention is not uncommon, when a conflict that must be resolved somehow happens and all else fails then conflict resolution third party interventions are needed , this article explains mediation and arbitration as the two main third party intervention processes.
Why we avoid dealing with conflict
Nobody wants trouble, and when we see trouble coming around the corner most of us would rather cross the street and avoid it. But since conflict is part of our personal and professional life and all of us have either had to deal with conflict in the past and will probably face conflict in the future.
Essential Elements of a good resolution
For any proposed solution for a conflict situation to be good, solid and satisfies all parties and last over time, it needs to have specific qualities and must include the following attributes that must be given good consideration to ensure the proposed resolution is the correct way to go.
What not to say when resolving conflict
The language you use while working through the conflict resolution process has a great impact on the result it can actually either make or break the process.
The 4 keys to influencing others
There are four major keys or components a manager must be aware of to successfully influence his/her subordinates and convince them why they must achieve a certain task or get something done specifically if there is some resistance to implementing the new ideas, this article gives an overview of the recommended process.
Influencing do's and dont's
A list of do's and don'ts of influencing others.
How to disagree agreeably
Being assertive means having your own views. Since others will also have their views, this means that occasionally there will be disagreements. Acquiescing or, the opposite, attacking, are not constructive responses.

34 Full Courses & 6 Mini Courses
Get all available programs
& save ...!!
Price: $4499.95 $2995.95
Great Value For Money
Read More
Are You a
Visual, Auditory or Kinaesthetic ?
How well do you
cope under
pressure? .
Are You A
people person?
.
Forward looking, or
Stuck in a time
warp?
How content
are you?
.
How soft-centred
are you?
.
Find Out
Your Leadership
Style
How
Emotionally intelligent are You ?
| | | |
| --- | --- | --- |
| | + | |
The Presenter-Trainer Package®
Train The Trainer
Presenting With Impact
Price: $359.95 $299.95
SAVE $59.95
Read More

Retail Excellence Series®
3 Complete Courseware
Packages in 1
Frontline Retail Selling Skills
Retail Sales Planning & Forecasting
Passionate Retail Experts
Price: $539.855 $349.95
Pay for 2 Get 1 Free
Read More

Sales excellence series®
3 Complete Courseware
Packages in 1
Sales Management
Professional Selling Skills
Sales Territory Planning & Routing
Price: $539.855 $349.95
Pay for 2 Get 1 Free
Read More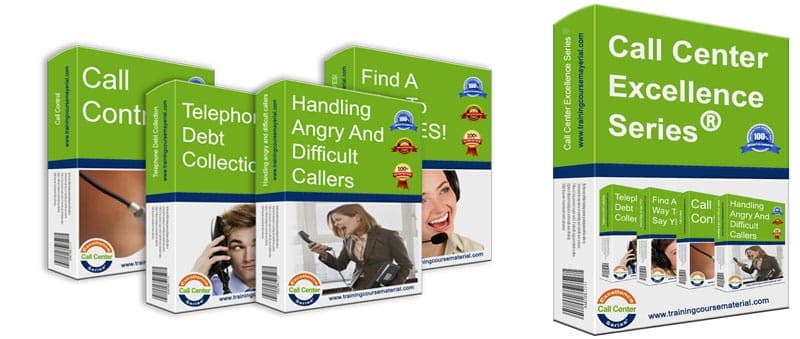 Call Center Excellence Series®
4 Complete Courseware
Packages in 1
Handling angry and difficult callers
Call control
Find a way to say YES!
Successful telephone debt collection
Price: $719.95 $449.95
Pay for 2 programs and Get 2 programs Free
Read More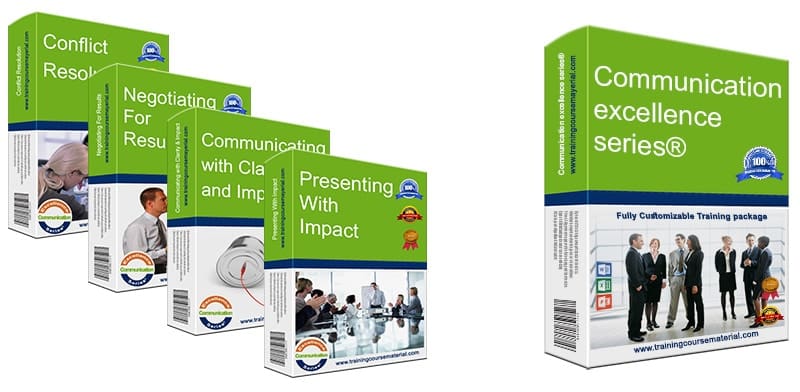 Communication Excellence Series®
4 Complete Courseware
Packages in 1
Communicating with clarity and impact
Negotiating for results
Conflict resolution
Presenting With Impact
Price: $719.95 $449.95
Pay for 2 programs and Get 2 programs Free
Read More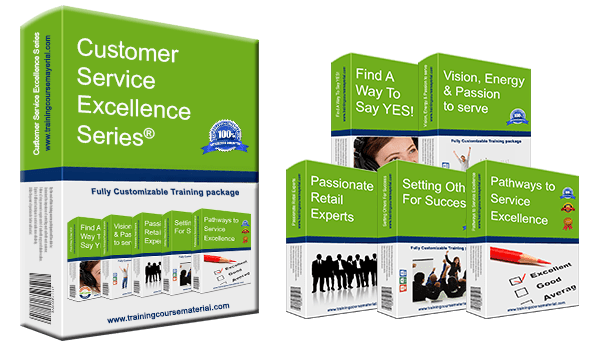 Customer Service Excellence Series®
5 Complete Courseware
Packages in 1
Vision, Energy & Passion To Serve
Pathways to service excellence
Find a way to say YES!
Passionate Retail Experts
Setting others up for success
Price: $899.75 $599.95
Pay for 3 Get 2 Free
Read More
Instant Download
Training packages
All you need
to deliver a great training!
Our training material packages come with all you need to provide
a professional and accelerated learning solution with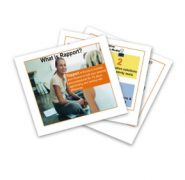 High Impact
Power Point Slide Deck
To support immersive learning, a high impact professionally designed power point slide deck to engage trainees at all levels.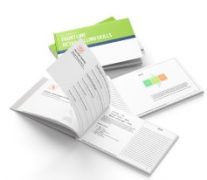 Student
Workbook
A comprehensive reference workbook you can give out to your class participants as a quick future reference.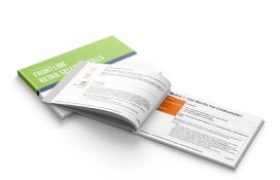 Trainer
Guide
With step-by-step clear directions with tips and suggestions on what to say and how to present each slide.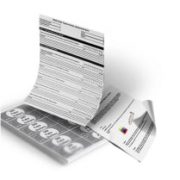 Activity
/Exercise Sheets
Various training material and support documents to help you both explain and debrief the different exercises, activities and games Plus a fun final Jeopardy style review game as a fun ending for your training program.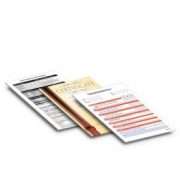 Additional
Support Documents
To ensure you have all you need to deliver a complete and professional training program, additional supporting documents are included with each full course material package. From training evaluation forms to 5 different certificate templates that you can edit and hand out to your participants at the end of your training.
Job Aids
& Forms
Specific forms designed to extend and reinforce the training that participants can utilize back on the job to help them apply the new learned concepts (Select training material packages)
Get all our training Packages
and Save!

Save over $1500 and Get each full program for under $99.00 & 6 Mini Courses free