Negotiating and Dealing with Conflict
Negotiating and Dealing with Conflict
Conflict resolution - Influencing - Negotiation
Hits: 12152
Dealing with Conflict Situations
If two drivers meet in a narrow lane and neither will back up, the knowledge and skill required in such situation will be how to modify one or both of the drivers' behaviour to resolve this conflict. Knowledge of the respective cubic capacities of engines and the political affiliations of the drivers will either be useless or of only marginal help. What is required is an effective intervention now by someone.
The intervention could be made by either driver or by the farmer who is leaning on the gate, in the role of a third party whose world may be de-stabilised by irrational disputants. The skills present in this trio will determine the ratio of twisted metal, high blood pressure and wasted energy to effective resolution. Either adversaries or third parties behave skilfully or they fail to resolve the situation. They need the critical skill of coping with conflict.
When Someone needs to Change Someone's Opinion
If parties to a conflict at work see their needs as opposing goals, then in a manner of speaking they will not back up either. Someone needs to change someone's behaviour to make progress, or to restructure the basic circumstances. If the lane can be widened, then both may pass. Or, more elegantly, if perceptions of the width and the value of joint action are seen, then perhaps both may pass – with due care and attention. At work, if options for mutual gain are identified, then people can see their mutual world in terms of overlapping circles, not opposite corners of an industrial boxing ring.
But, again, someone needs to deliberately and skilfully intervene. The farmer leaning on the gate in the industrial setting can be any intelligent and skilled participant or third party. It would be a manager, a representative, a worker, a personnel specialist, a trainer – we all can act. We are all part of the drama. Again, our skill must be pointed and intervention now (bearing in mind that skilled intervention includes knowing when not to intervene) and on an ongoing basis. Short and long term goals require choosing, ideas require developing and actions require execution.
Practical Help in Coping with Conflict
The knowledge and experience that is of practical help in coping with conflict can be found in very different theatres of experience; international diplomacy, industrial relations, moulding public opinion and handling terrorism are four crucial ones. The point of reviewing successful practice in theatres of action such as these is to help us categorise strategies and tactics – to produce checklists of useful measures that can be taken right away.
Life is full of situations where adversaries, colleagues, friends and relations will not back up or back down. The situations differ, of course, in important ways: the substance is different. International conflict may have proliferations of nuclear missiles on the agenda; arguments within the family may only have the choice of the summer holiday as the substantive issue. Intensity is another important dimension; the background climate can be one of détente or cold war. The holiday discussed within the family can be matter of fact or an intense emotional battle due to peripheral or surrounding circumstances, like shortage of money or your spouse's desire to bring mother-in-law along.
Both these and countless other situations are sharp moments in the process of living – moments of conflict, change and consequences – where events can escalate or be resolved. Whether the missile is fired or it is not. The holiday turns out well or it does not. See also What not to say when resolving conflict . Any situation that leads to conflict can be destructive or constructive. It can drain energy or raise it. Conflict can be uncontrolled or can be controlled. There can be too much conflict; there also can be too little of it. But the world around it shows there is little need to justify coping with conflict as a basic survival skill.
For more on conflict resolution, check out our conflict resolution instant download training package.

34 Full Courses & 6 Mini Courses
Get all available programs
& save ...!!
Price: $4499.95 $2995.95
Great Value For Money
Read More
Are You a
Visual, Auditory or Kinaesthetic ?
How well do you
cope under
pressure? .
Are You A
people person?
.
Forward looking, or
Stuck in a time
warp?
How content
are you?
.
How soft-centred
are you?
.
Find Out
Your Leadership
Style
How
Emotionally intelligent are You ?
| | | |
| --- | --- | --- |
| | + | |
The Presenter-Trainer Package®
Train The Trainer
Presenting With Impact
Price: $359.95 $299.95
SAVE $59.95
Read More

Retail Excellence Series®
3 Complete Courseware
Packages in 1
Frontline Retail Selling Skills
Retail Sales Planning & Forecasting
Passionate Retail Experts
Price: $539.855 $349.95
Pay for 2 Get 1 Free
Read More

Sales excellence series®
3 Complete Courseware
Packages in 1
Sales Management
Professional Selling Skills
Sales Territory Planning & Routing
Price: $539.855 $349.95
Pay for 2 Get 1 Free
Read More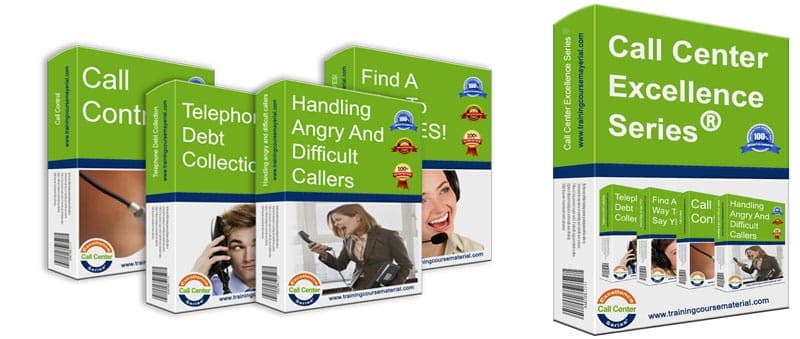 Call Center Excellence Series®
4 Complete Courseware
Packages in 1
Handling angry and difficult callers
Call control
Find a way to say YES!
Successful telephone debt collection
Price: $719.95 $449.95
Pay for 2 programs and Get 2 programs Free
Read More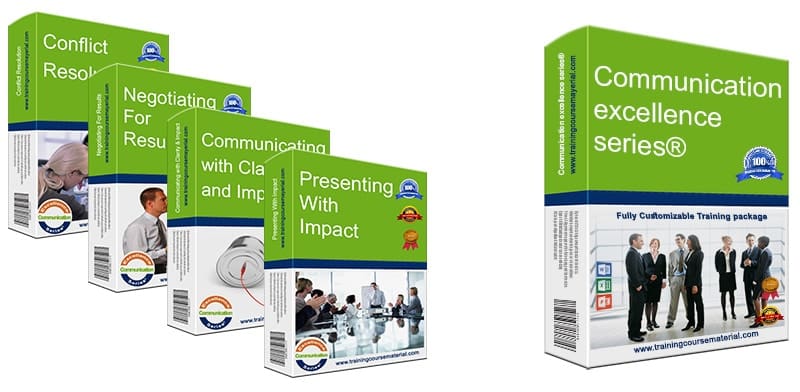 Communication Excellence Series®
4 Complete Courseware
Packages in 1
Communicating with clarity and impact
Negotiating for results
Conflict resolution
Presenting With Impact
Price: $719.95 $449.95
Pay for 2 programs and Get 2 programs Free
Read More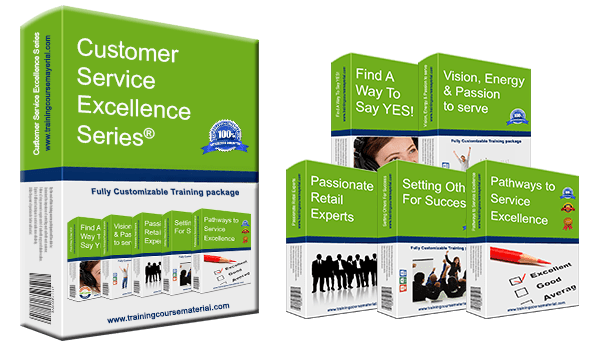 Customer Service Excellence Series®
5 Complete Courseware
Packages in 1
Vision, Energy & Passion To Serve
Pathways to service excellence
Find a way to say YES!
Passionate Retail Experts
Setting others up for success
Price: $899.75 $599.95
Pay for 3 Get 2 Free
Read More
Instant Download
Training packages
All you need
to deliver a great training!
Our training material packages come with all you need to provide
a professional and accelerated learning solution with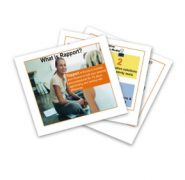 High Impact
Power Point Slide Deck
To support immersive learning, a high impact professionally designed power point slide deck to engage trainees at all levels.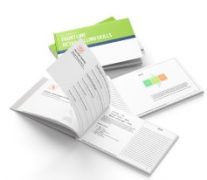 Student
Workbook
A comprehensive reference workbook you can give out to your class participants as a quick future reference.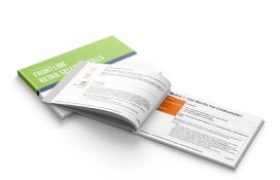 Trainer
Guide
With step-by-step clear directions with tips and suggestions on what to say and how to present each slide.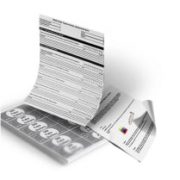 Activity
/Exercise Sheets
Various training material and support documents to help you both explain and debrief the different exercises, activities and games Plus a fun final Jeopardy style review game as a fun ending for your training program.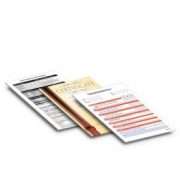 Additional
Support Documents
To ensure you have all you need to deliver a complete and professional training program, additional supporting documents are included with each full course material package. From training evaluation forms to 5 different certificate templates that you can edit and hand out to your participants at the end of your training.
Job Aids
& Forms
Specific forms designed to extend and reinforce the training that participants can utilize back on the job to help them apply the new learned concepts (Select training material packages)
Get all our training Packages
and Save!

Save over $1500 and Get each full program for under $99.00 & 6 Mini Courses free