Pitfalls and tips for debt collectors
Pitfalls and tips for debt collectors
A carefully curated list covering 10 common pitfalls for debt collectors to avoid and 10 actionable tips for debt collection excellence.
10 Pitfalls for debt collectors to avoid
Harassment or Intimidation: Debt collectors must refrain from using aggressive, threatening, or abusive language or tactics. Harassment can lead to legal consequences and damage the reputation of both the collector and the company they represent.
Violation of Privacy: Debt collectors should respect debtors' privacy rights and avoid discussing the debt with unauthorized individuals or disclosing sensitive information to third parties.
Misrepresentation or Deception: It's crucial to provide accurate and truthful information to debtors. Misleading or deceptive tactics, such as pretending to be a law enforcement officer or making false threats, are prohibited by law.
Failure to Verify Debts: Debt collectors must verify the validity of debts before attempting to collect. Failing to do so can result in collecting from the wrong person or attempting to collect on inaccurate or expired debts.
Ignoring Debt Collection Laws: Ignoring or disregarding debt collection laws and regulations can lead to legal actions against collectors and their organizations. Collectors should stay informed about relevant laws to ensure compliance.
Overpromising or Underdelivering: Debt collectors should avoid making promises they can't fulfill. Overpromising solutions or outcomes can damage trust if they aren't realized, and underdelivering can create frustration for debtors.
Ignoring Debt Disputes: If a debtor disputes the validity of a debt, debt collectors are required to investigate and respond appropriately. Ignoring valid disputes can lead to legal issues and regulatory penalties.
Contacting Outside of Legal Hours: Debt collection laws specify when collectors can contact debtors (typically within reasonable hours). Contacting debtors outside of these hours can be considered harassment and violate regulations.
Lack of Documentation: Proper documentation is essential in debt collection. Failing to maintain accurate records of communication, agreements, and payment arrangements can lead to disputes and confusion.
Using Social Media for Collection: Publicly discussing a debtor's financial situation on social media or using social platforms to contact debtors is unprofessional and can violate privacy regulations.
Remember, adhering to ethical practices, debt collection laws, and maintaining a respectful and professional demeanor is key to successful debt collection while avoiding these pitfalls.
Here are 10 tips for debt collectors to complement the 10 pitfalls to avoid:
Build Rapport: Establish a positive and respectful relationship with debtors by showing empathy and understanding their situation.
Effective Communication: Clearly explain the debt, its terms, and available options in a simple and transparent manner.
Active Listening: Listen attentively to debtors' concerns, allowing them to express themselves fully before responding.
Customized Approaches: Tailor your communication and solutions to fit the debtor's unique circumstances and financial capabilities.
Educate Debtors: Provide debtors with information about their rights, responsibilities, and available resources for managing their debt.
Set Realistic Expectations: Manage debtors' expectations by offering solutions that are achievable and beneficial for both parties.
Regular Follow-Ups: Maintain consistent contact with debtors to ensure they remain engaged in the resolution process.
Document Everything: Keep thorough records of all interactions, agreements, and payment arrangements to ensure accuracy and compliance.
Offer Flexibility: Provide flexible payment plans or settlement options that accommodate debtors' financial constraints.
Professional Development: Stay informed about industry updates, regulations, and best practices to continuously enhance your debt collection skills.
Remember, a balanced approach that focuses on professionalism, understanding, and ethical practices can lead to successful debt resolution while maintaining a positive reputation for both debt collectors and the organizations they represent.

34 Full Courses & 6 Mini Courses
Get all available programs
& save ...!!
Price: $4499.95 $2995.95
Great Value For Money
Read More
Are You a
Visual, Auditory or Kinaesthetic ?
How well do you
cope under
pressure? .
Are You A
people person?
.
Forward looking, or
Stuck in a time
warp?
How content
are you?
.
How soft-centred
are you?
.
Find Out
Your Leadership
Style
How
Emotionally intelligent are You ?
| | | |
| --- | --- | --- |
| | + | |
The Presenter-Trainer Package®
Train The Trainer
Presenting With Impact
Price: $359.95 $299.95
SAVE $59.95
Read More

Retail Excellence Series®
3 Complete Courseware
Packages in 1
Frontline Retail Selling Skills
Retail Sales Planning & Forecasting
Passionate Retail Experts
Price: $539.855 $349.95
Pay for 2 Get 1 Free
Read More

Sales excellence series®
3 Complete Courseware
Packages in 1
Sales Management
Professional Selling Skills
Sales Territory Planning & Routing
Price: $539.855 $349.95
Pay for 2 Get 1 Free
Read More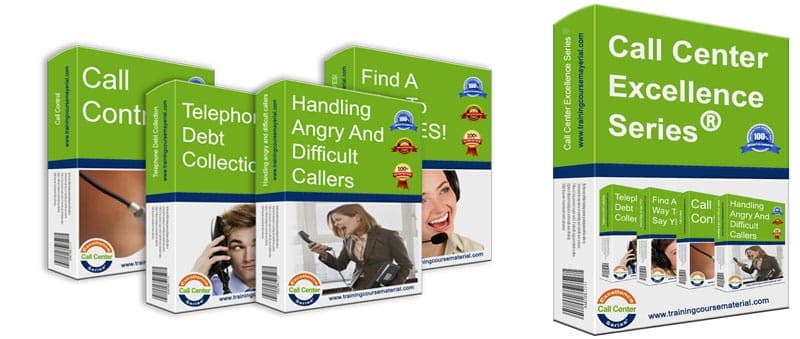 Call Center Excellence Series®
4 Complete Courseware
Packages in 1
Handling angry and difficult callers
Call control
Find a way to say YES!
Successful telephone debt collection
Price: $719.95 $449.95
Pay for 2 programs and Get 2 programs Free
Read More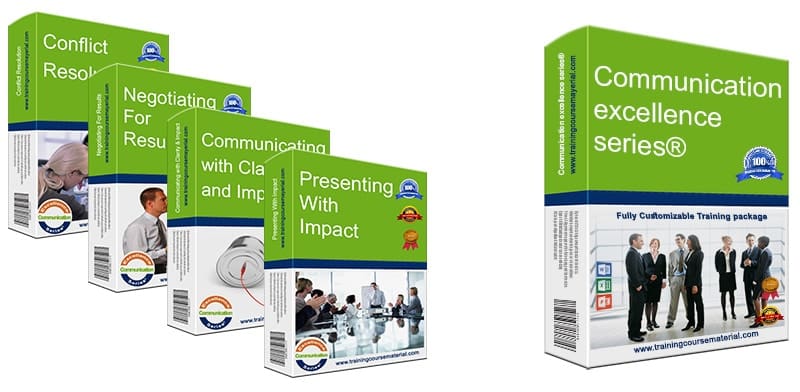 Communication Excellence Series®
4 Complete Courseware
Packages in 1
Communicating with clarity and impact
Negotiating for results
Conflict resolution
Presenting With Impact
Price: $719.95 $449.95
Pay for 2 programs and Get 2 programs Free
Read More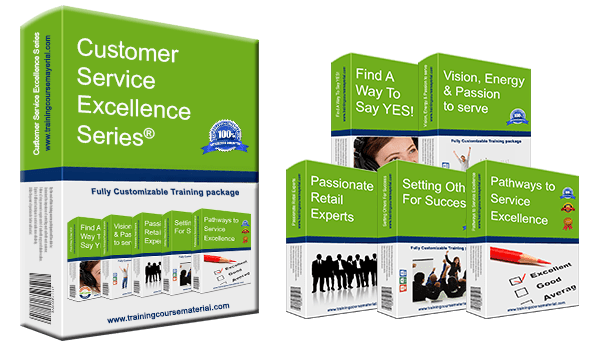 Customer Service Excellence Series®
5 Complete Courseware
Packages in 1
Vision, Energy & Passion To Serve
Pathways to service excellence
Find a way to say YES!
Passionate Retail Experts
Setting others up for success
Price: $899.75 $599.95
Pay for 3 Get 2 Free
Read More
This one day program is specifically designed for debt collection call center agents and credit department staff who deal with customers with outstanding or overdue debts. It introduces a plethora of specific debt collection call best practice and negotiation techniques to help collection staff handle challenging collection conversations more professionally with debtors and customers with overdue payments and collect more overdue debts.
Instant Download
Training packages
All you need
to deliver a great training!
Our training material packages come with all you need to provide
a professional and accelerated learning solution with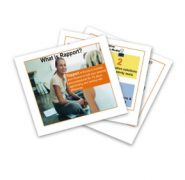 High Impact
Power Point Slide Deck
To support immersive learning, a high impact professionally designed power point slide deck to engage trainees at all levels.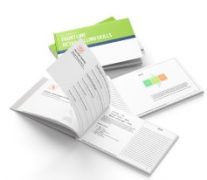 Student
Workbook
A comprehensive reference workbook you can give out to your class participants as a quick future reference.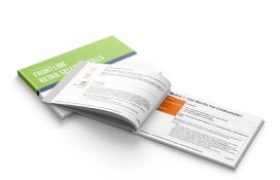 Trainer
Guide
With step-by-step clear directions with tips and suggestions on what to say and how to present each slide.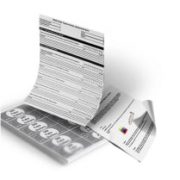 Activity
/Exercise Sheets
Various training material and support documents to help you both explain and debrief the different exercises, activities and games Plus a fun final Jeopardy style review game as a fun ending for your training program.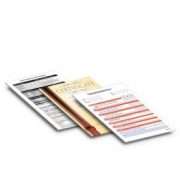 Additional
Support Documents
To ensure you have all you need to deliver a complete and professional training program, additional supporting documents are included with each full course material package. From training evaluation forms to 5 different certificate templates that you can edit and hand out to your participants at the end of your training.
Job Aids
& Forms
Specific forms designed to extend and reinforce the training that participants can utilize back on the job to help them apply the new learned concepts (Select training material packages)
Get all our training Packages
and Save!

Save over $1500 and Get each full program for under $99.00 & 6 Mini Courses free