Human Resources Management
Hits: 8848
About Career Development Plans
Sometimes you can get where you want to go in business—if you're lucky. But, more often, it takes a plan, and effective career development requires well thought out and executed plans. Make no mistake about it: Career development plans take time to develop and they take time to monitor, track, and adjust as needed. But the investment of time required will pay off many times over in employees who perform better and who are happier in their jobs.
The best career development plans contain at minimum the following five key elements:
1. Specific learning goals: By identifying specific learning goals with your employees—classes they should take, skills they should learn, expertise they should develop—you provide them with a clearly marked path to travel as they proceed through their careers. The learning goals for a contract negotiator might, for example, include coursework in contract law, negotiation techniques workshops, and a progression of assignments from relatively simple low-dollar negotiations to very complex, high-dollar deals.
2. Resources required to achieve the designated learning goals: It's not enough to create learning goals; managers also have to designate the organizational resources that will be devoted to making the goals happen. Such resources might include assignment to specific teams or job shadowing, formal training (conducted by outsiders, by internal trainers, or perhaps online), and of course the money required to pay for all this.
3. Employee responsibilities and resources: Career development is a joint responsibility of an employee and his or her manager. A business can and does pay for things, but so can employees (as any employee who has paid out of his own pocket to get a college degree can attest). A good career development plan should include what the employee is doing on his or her own time.
4. Required date of completion for each learning goal: Every good plan also needs a good schedule, so therefore each learning goal must have a corresponding date of completion. Schedules must be above all else realistic while keeping an employee's forward progress in motion. Ideally, schedules will allow employees the f lexibility to get their daily tasks done while keeping a step ahead of the changes in the business environment that necessitate the employees' development in the first place.
5. Standards for measuring the accomplishment of learning goals: Of course, employees and their managers must have some way of knowing when (and if) a learning goal has been completed. Standards might be unambiguous (a course has been completed) or it might be more subjective (the employee has some measure of expertise in a particular area of learning). Whatever the situation, managers should always ensure that the selected standards are clear and attainable and that both you and your employees are in full agreement with them.
Are you by now wondering what a simple career development plan might look like? Here's an example of a basic career development plan for an interest rate analyst. Note that a career development plan doesn't have to be complicated and it doesn't have to be as big as the book that you're holding in your hands. When it comes to employee plans of any sort, simpler (and more concise) is usually better:
P E T E R S O R K I N ' S C A R E E R DEVELOPMENT PLAN
SKILL GOAL
• Become proficient in interest rate analysis.
LEARNING GOAL
• Learn the basics of employee supervision.
PLAN
• Shadow supervisor in daily work for half days, starting immediately.
• Attend quarterly supervisors' update seminar on the first Wednesday of January, April, July, and October (no cost: in-house).
• Complete "Basics of Interest Rate Analysis" class no later than the first quarter of fiscal year XX ($550 plus travel costs).
• Successfully complete "Intermediate Interest Rate Analysis" class no later than the second quarter of fiscal year XX ($750 plus travel costs).
• Continue self-funded accounting certificate program at local community college.
This career development plan contains each of the five necessary elements as described earlier. Remember: Career development plans don't have to be complicated to be effective. The exact format of the plan is not important; what's important is that you create career development plans for your employees.
HELPING TO DEVELOP EMPLOYEES
The role of the manager in developing employees is to help employees figure out exactly what they want to go, and then to provide the support and organizational resources for employees to get there. But employee development is a two-way street, and managers cannot take on this task in a vacuum. Employees must also participate by identifying the areas where development will help to make them better and more productive workers in the future and relaying this information to their managers. Once needs are identified, plans developed, and resources identified, managers and employees can work together to turn them into reality.
In the following steps, we'll explore the best way for managers to approach the development process with their employees.
Step 1:
Meet with your employees about their careers. What's the best way to determine the path your employees want to take in their careers? Ask them! You might, for example, think that your top software engineer has her sights set on your organization's chief technology officer position, when she would actually much rather keep coding software. Once you determine where in the organization your employee wants her career to go, then you'll have a baseline from which to work.
Step 2:
Discuss your employees' strengths and weaknesses. Every employee has certain areas of strengths, and other areas of weakness. A decision will have to be made: Do you further develop an employee's strengths (making him the best die cutter in the business), or do you try to shore up weaknesses (turning a lone wolf, for example, into a team player)? Or do you do both? Be frank with your employee about both his strengths and weaknesses, and then decide where you will direct your focus and resources.
Our own feeling is that it's more important to develop your employees' strengths (further increasing their value to the organization, along with their self-esteem) than to improve their weaknesses (which may raise these areas only to the barely adequate at best).
Step 3:
Assess where your employees are now. A career plan is like a story arc—there is a beginning, an end, and a lot of events in between. To better understand where your employee should go, you've got to first determine where she is now. By assessing the current state of her skills and talents, you'll end up with an overall road map to guide your development efforts.
Step 4:
Create career development plans. A career development plan formalizes the agreements that you make to provide formal support (tuition, time off, travel expenses, and so on) to your employee in developing his or her career. Effective career development plans contain milestones for the achievement of learning goals and descriptions of any other resources and support needed to meet the goals that you agree to.
Step 5:
Follow through on your agreements, and make sure that your employees follow through on theirs. Once you agree on specific career development plans with your employees, be sure that you uphold your end of the bargain, and that your employees uphold their end as well. Be sure to check your employees' progress regularly—once every quarter would not be too often—and if they miss schedules because of other priorities, reassign their work as necessary to ensure that they have the time they need to focus on their career development plans.
Career development is something that tends to get put off because of other priorities. And, even when it is conducted on a regular basis, the frequency of discussions is often few and far in between. Many managers, for example, conduct career discussions only when they conduct annual employee performance appraisals. While this is certainly better than never having career development discussions at all, this really isn't often enough—especially as most businesses find themselves in a state of constant whitewater change, where markets and technology are anything but stable and predictable.
The Top 10 Ways to Develop Employees
1. Provide employees with opportunities to learn and grow.
2. Be a mentor to an employee.
3. Let an employee fill in for you in staff meetings.
4. Assign your employee to a team.
5. Allow employees to pursue and develop their ideas.
6. Provide employees with a choice of assignments.
7. Send your employee to a seminar on a new topic.
8. Take an employee along with you when you call on customers.
9. Introduce your employee to top managers in your organization, and arrange to have him or her perform special assignments for them.
10. Allow an employee to shadow you during your workday.
Source : The Management Bible – John Wiley and Sons. Copyright © 2005 by Nelson Motivation, Inc. & Peter Economy, Inc.

34 Full Courses & 6 Mini Courses
Get all available programs
& save ...!!
Price: $4499.95 $2995.95
Great Value For Money
Read More
Are You a
Visual, Auditory or Kinaesthetic ?
How well do you
cope under
pressure? .
Are You A
people person?
.
Forward looking, or
Stuck in a time
warp?
How content
are you?
.
How soft-centred
are you?
.
Find Out
Your Leadership
Style
How
Emotionally intelligent are You ?
| | | |
| --- | --- | --- |
| | + | |
The Presenter-Trainer Package®
Train The Trainer
Presenting With Impact
Price: $359.95 $299.95
SAVE $59.95
Read More

Retail Excellence Series®
3 Complete Courseware
Packages in 1
Frontline Retail Selling Skills
Retail Sales Planning & Forecasting
Passionate Retail Experts
Price: $539.855 $349.95
Pay for 2 Get 1 Free
Read More

Sales excellence series®
3 Complete Courseware
Packages in 1
Sales Management
Professional Selling Skills
Sales Territory Planning & Routing
Price: $539.855 $349.95
Pay for 2 Get 1 Free
Read More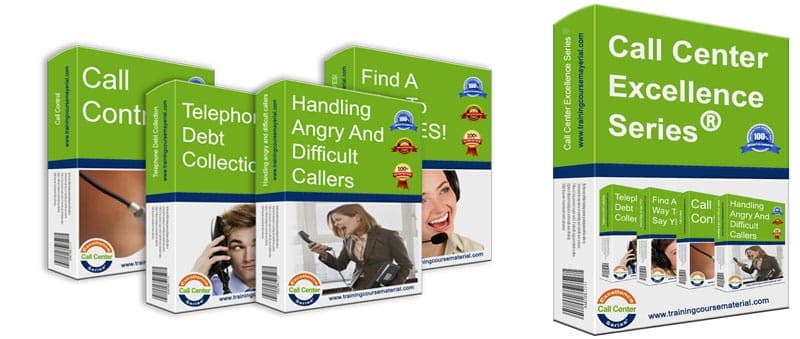 Call Center Excellence Series®
4 Complete Courseware
Packages in 1
Handling angry and difficult callers
Call control
Find a way to say YES!
Successful telephone debt collection
Price: $719.95 $449.95
Pay for 2 programs and Get 2 programs Free
Read More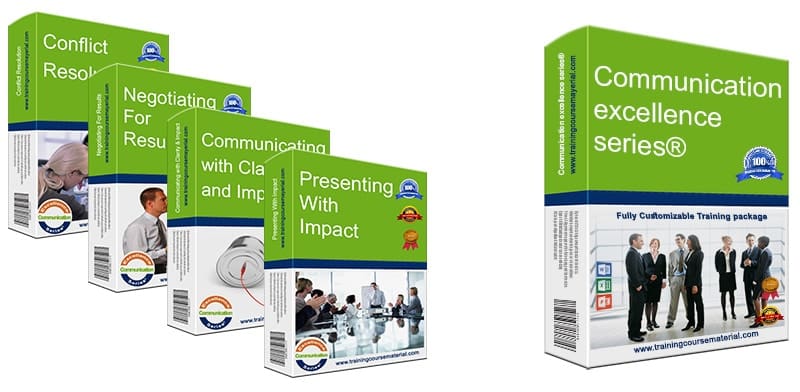 Communication Excellence Series®
4 Complete Courseware
Packages in 1
Communicating with clarity and impact
Negotiating for results
Conflict resolution
Presenting With Impact
Price: $719.95 $449.95
Pay for 2 programs and Get 2 programs Free
Read More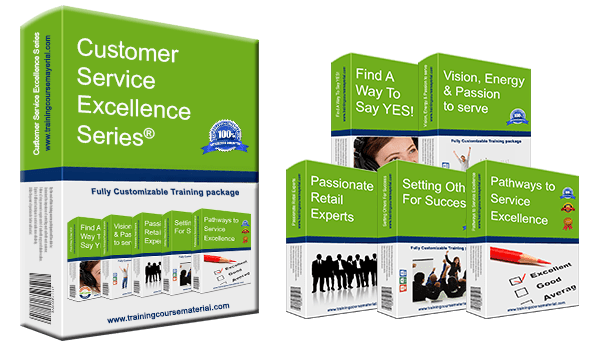 Customer Service Excellence Series®
5 Complete Courseware
Packages in 1
Vision, Energy & Passion To Serve
Pathways to service excellence
Find a way to say YES!
Passionate Retail Experts
Setting others up for success
Price: $899.75 $599.95
Pay for 3 Get 2 Free
Read More
Instant Download
Training packages
All you need
to deliver a great training!
Our training material packages come with all you need to provide
a professional and accelerated learning solution with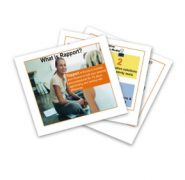 High Impact
Power Point Slide Deck
To support immersive learning, a high impact professionally designed power point slide deck to engage trainees at all levels.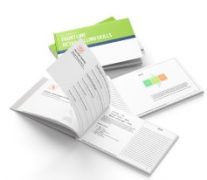 Student
Workbook
A comprehensive reference workbook you can give out to your class participants as a quick future reference.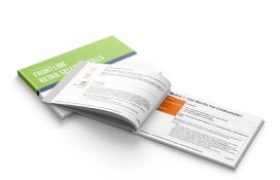 Trainer
Guide
With step-by-step clear directions with tips and suggestions on what to say and how to present each slide.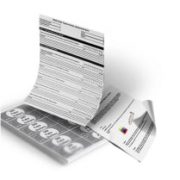 Activity
/Exercise Sheets
Various training material and support documents to help you both explain and debrief the different exercises, activities and games Plus a fun final Jeopardy style review game as a fun ending for your training program.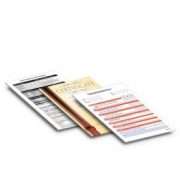 Additional
Support Documents
To ensure you have all you need to deliver a complete and professional training program, additional supporting documents are included with each full course material package. From training evaluation forms to 5 different certificate templates that you can edit and hand out to your participants at the end of your training.
Job Aids
& Forms
Specific forms designed to extend and reinforce the training that participants can utilize back on the job to help them apply the new learned concepts (Select training material packages)
Get all our training Packages
and Save!

Save over $1500 and Get each full program for under $99.00 & 6 Mini Courses free