Human Resources Management
Human Resources Management
Hits: 15987
What is Performance appraisal?
A performance appraisal is a formal management system to evaluate the quality of an individual's performance in an organization.
What is a competency?
Competencies are behaviour patterns, based on acquired knowledge, skills and attitudes, which a person needs to bring to a job in order to carry out certain key tasks with competence.
Interviewing primer
Interviews are one of the most effective selection methods,99% of companies use Interviews, they are so common because they fulfill a psychological need to meet and see a person who might one day join the company.
Types of interviews
There are different types of interviews, each providing quite specific types of information, this article gives an overview of the major,most common types of interviews:
Effective Interviewing questions
There is no doubt that interviewing is all about asking questions. Asking the right questions is crucial to make a fair evaluation of your candidate. If you ask the right questions, you will be able to uncover what you are looking for in a candidate.
Evaluating Resumes
If it was based only on resumes then probably most of your candidates are perfect for the job and your predicament would be choosing the best. but back to reality, we all know the real world doesn't work that way, anyone can write an impressive resume but is it all factual?
Ending interviews professionally
This article gives you a process to follow to end the interview in a professional manner and also give the candidate some feedback, and a chance to ask questions as well as letting them know what happens next.
Evaluating Interview results
It's Highly recommended to start your evaluation of the interview right away after the employee leaves while everything is still fresh in your mind. Find out more about properly evaluating interview results.
Orienting new employees
Do you remember how was your first day at work? unfamiliar people, policies and procedures, The experience is exciting but can also be confusing and challenging.
Biggest Interviewing mistakes
A list of the most common pitfals and mistakes of conducting interviews.
The employee selection process
This article outlines the common steps of the selection process followed by most companies when hiring new employees and taking them on board.
Job analysis/description/specification
A clear textbook definition of job analysis, job description and job specification to clear out the confusion.
Career Development plans
Sometimes you can get where you want to go in business—if you're lucky. But, more often, it takes a plan, and effective career development requires well thought out and executed plans.
Using Internal Vs External Trainers
It is difficult to generalise about how it is worth it for companies to develop their own internal team of trainers to carry the burden of developing and training employees versus the use of professional external trainers.
Measuring Training ROI for sales and service staff
First we must clearly point out that measuring ROI of training is usually not an easy task to do or to measure accurately. Financial results for individual employees, teams and departments are measurable, but how these were influenced by the training alone is the difficult bit.
Kirkpatrick's 4 levels of training evaluation model
A brief explanation of Kirkpatrick's 4 levels of training evaluation
Full time trainer Vs freelance trainer, which is best for your business
Employee development, which is right for your company and employees, hiring a full time trainer or freelance trainers?

34 Full Courses & 6 Mini Courses
Get all available programs
& save ...!!
Price: $4499.95 $2995.95
Great Value For Money
Read More
Are You a
Visual, Auditory or Kinaesthetic ?
How well do you
cope under
pressure? .
Are You A
people person?
.
Forward looking, or
Stuck in a time
warp?
How content
are you?
.
How soft-centred
are you?
.
Find Out
Your Leadership
Style
How
Emotionally intelligent are You ?
| | | |
| --- | --- | --- |
| | + | |
The Presenter-Trainer Package®
Train The Trainer
Presenting With Impact
Price: $359.95 $299.95
SAVE $59.95
Read More

Retail Excellence Series®
3 Complete Courseware
Packages in 1
Frontline Retail Selling Skills
Retail Sales Planning & Forecasting
Passionate Retail Experts
Price: $539.855 $349.95
Pay for 2 Get 1 Free
Read More

Sales excellence series®
3 Complete Courseware
Packages in 1
Sales Management
Professional Selling Skills
Sales Territory Planning & Routing
Price: $539.855 $349.95
Pay for 2 Get 1 Free
Read More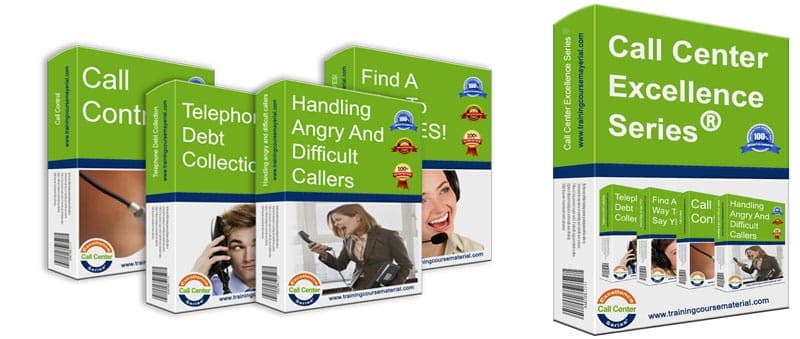 Call Center Excellence Series®
4 Complete Courseware
Packages in 1
Handling angry and difficult callers
Call control
Find a way to say YES!
Successful telephone debt collection
Price: $719.95 $449.95
Pay for 2 programs and Get 2 programs Free
Read More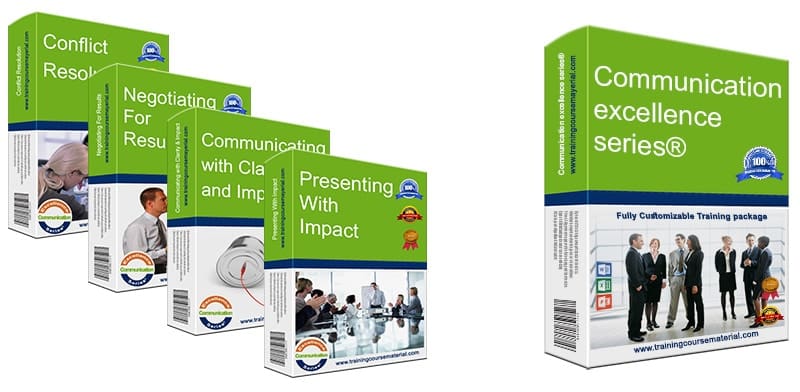 Communication Excellence Series®
4 Complete Courseware
Packages in 1
Communicating with clarity and impact
Negotiating for results
Conflict resolution
Presenting With Impact
Price: $719.95 $449.95
Pay for 2 programs and Get 2 programs Free
Read More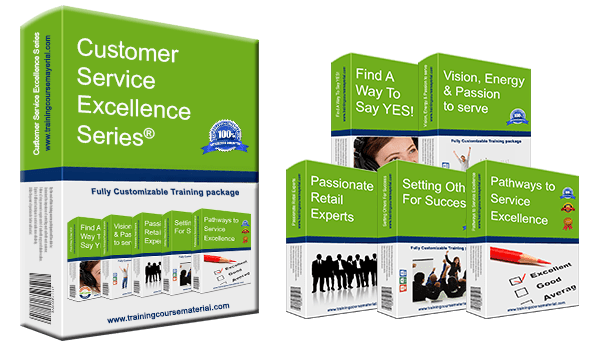 Customer Service Excellence Series®
5 Complete Courseware
Packages in 1
Vision, Energy & Passion To Serve
Pathways to service excellence
Find a way to say YES!
Passionate Retail Experts
Setting others up for success
Price: $899.75 $599.95
Pay for 3 Get 2 Free
Read More
Instant Download
Training packages
All you need
to deliver a great training!
Our training material packages come with all you need to provide
a professional and accelerated learning solution with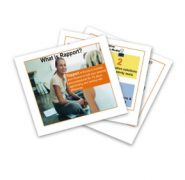 High Impact
Power Point Slide Deck
To support immersive learning, a high impact professionally designed power point slide deck to engage trainees at all levels.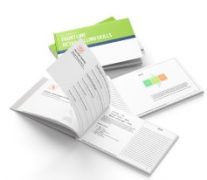 Student
Workbook
A comprehensive reference workbook you can give out to your class participants as a quick future reference.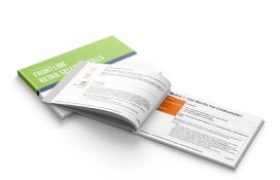 Trainer
Guide
With step-by-step clear directions with tips and suggestions on what to say and how to present each slide.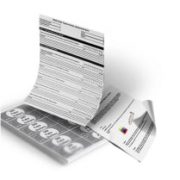 Activity
/Exercise Sheets
Various training material and support documents to help you both explain and debrief the different exercises, activities and games Plus a fun final Jeopardy style review game as a fun ending for your training program.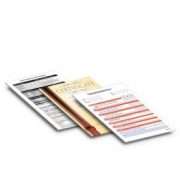 Additional
Support Documents
To ensure you have all you need to deliver a complete and professional training program, additional supporting documents are included with each full course material package. From training evaluation forms to 5 different certificate templates that you can edit and hand out to your participants at the end of your training.
Job Aids
& Forms
Specific forms designed to extend and reinforce the training that participants can utilize back on the job to help them apply the new learned concepts (Select training material packages)
Get all our training Packages
and Save!

Save over $1500 and Get each full program for under $99.00 & 6 Mini Courses free