Effective Interviewing Questions
Human Resources Management
Hits: 8916
There is no doubt that interviewing is all about asking questions. Asking the right questions is crucial to make a fair evaluation of your candidate. If you ask the right questions, you will be able to uncover what you are looking for in a candidate. Planning and preparing your questions in advance is very important and even more importantly asking the right types of questions will get you there.
What makes a question good?
A good question accomplishes two thing First, it gives you the specific information you need to make a sound hiring decision and secondly, helps you gain insight or a glimpse of how the candidate feels in other words the emotions your questions may stir.
TED Questions (Tell, Explain, Describe)
These are open ended questions that require thought and oblige the candidate to reveal either attitudes or opinions. They encourage the candidate to talk more helping you gain more insight about your candidate.
Examples: "Describe a situation you had to diffuse an angry customer." "Can you give me an illustration of how you improved customer service at your last job?"
When to use them: Most of the time, but interspersed with closed-ended questions. Using open-ended questions related to candidates' past experiences on the job is known as behavioral interviewing. Because this approach requires candidates to describe how they've handled real tasks and problems, it can be very useful and revealing.
Probing Questions
Use to 'dig' under the candidate's responses to specific points or issues and explore an area further
'What happened next?', 'How did you deal with…?'
Leading Questions
Are questions asked in such a way that the answer you're looking for is obvious. Examples: "You rarely had arguments with your last supervisor, right?" "You know a lot of sales techniques, don't you?" "You wouldn't dream of falsifying your expense accounts, would you?"
When to use them: Rarely, if ever. You're not likely to get an honest answer — just the answer you want to hear. And you run the risk of appearing unprofessional.
Hypothetical Questions
Questions that invite the candidate to resolve an imaginary situation or react to a given situation.
Examples: "If you were the manager, would you add an automated purchase-order system?" "If you were to take over this department, what's the first thing you'd do to improve customer service?"
When to use them: Useful if framed in the context of actual job situations.
12 Examples of interviewing questions
1- Can you tell me a little about yourself?
This questions is known to be one of the solid good questions to ask although most candidates probably rehearsed an answer for it. But a good candidate will be able to give you a good logical overview of his/her achievements, strengths and aspirations and your job will be to make sure of consistency with the applicant's resume.
2- What interests you about this job, and what skills and strengths can you bring to it?
This question is another way to see how much the candidate is eager and interested in the job and also how well prepared he/she is for the interview. A strong candidate will relate his/her own skills with specific requirements of the job.
3- Can you tell me a little about your current job?
A good candidate will give you a specific outline of all his/her duties and responsibilities which can reveal how passionate they are about their work in general which can give you a good insight about their sense of personal accountability.
4- Can you describe a professional success you are proud of?
Asking This question early on is a good idea because it serves two goals. First it gives the candidate a chance to explain something they are proud of and like to share and talk about and so they feel more confident. Secondly, gives you an idea about the potential strong areas the candidate has. This question is especially good also when you're interviewing someone for a technical position, such as a systems analyst or tax accountant. The answer shows the applicant's ability to explain what they do so that anyone can understand it. Do they avoid jargon in their description? Do they get their points across clearly? Failure to do so may be a sign that the individuals can't step out of their "world" sufficiently to work with people in other departments, which is a growing necessity in many organizations today.
5- Have you ever done something that changed the nature of your current/last job?
This is another very good question to ask that can tell you straight away about the candidate's creativity and resourcefulness. It's also a chance for the candidate to talk about something they are proud of and making them feel more comfortable.
6- What was the most difficult decision you ever had to make on the job?
With this question, What you're looking for is the person's decision-making style and how it fits into your company culture. Someone who admits that firing a subordinate was difficult demonstrates compassion, Individuals who admit a mistake they've made exhibit honesty and open-mindedness.
This question is an especially important one if you're interviewing a candidate for a middle- or senior-level management position.
7- I see that you've been unemployed for the past months. Why did you leave your last job, and what have you been doing since then?
Keep in mind that people sometimes get unemployed for some periods of time and not necessarily because it was their fault. A good candidate should be able to give you specific activities during their unemployment periods that would show their keenness to self development.
8- Which do you enjoy the most: working alone or working with other people?
Obviously people who answer alone will be more suited to technical or back office position although nowadays communication and teamwork is increasingly getting to be a function of even technical jobs so be aware of signs if the candidate lacks critical communication skill or a collaborative attitude.
9- What sort of things do you think your current /past experience could help to make you more successful on your new job?
This is a great question that will let you probe to see if the candidate has a clear understanding of his past/present company's mission and vision statements and does he really believe in them or not. Candidates who do not provide you with a clear answer may lack depth of interest which they may bring into your company.
10- Can you describe a typical day at work in your last/current job?
Another good question to ask that would give you a clear comparison of the employees expectations and the requirements of the job. A good candidate will give you specific details of their daily routine.
11- How do you handle conflict? Can you give me an example of how you handled a workplace conflict in the past?
candidates who say that they never get into conflict situations are either dishonest or delusional. of course you want candidates who deal assertively with conflict so try and ask for specifics

12- How would you respond if you were put in a situation you felt presented a conflict of interest or was unethical? Have you ever had this experience in previous positions?
No rational candidate is going to say that sometimes it's okay to be unethical. Although its interesting to find out how some candidates respond to this questions, some of their replies may give you some insight to predict what their reaction may be.

34 Full Courses & 6 Mini Courses
Get all available programs
& save ...!!
Price: $4499.95 $2995.95
Great Value For Money
Read More
Are You a
Visual, Auditory or Kinaesthetic ?
How well do you
cope under
pressure? .
Are You A
people person?
.
Forward looking, or
Stuck in a time
warp?
How content
are you?
.
How soft-centred
are you?
.
Find Out
Your Leadership
Style
How
Emotionally intelligent are You ?
| | | |
| --- | --- | --- |
| | + | |
The Presenter-Trainer Package®
Train The Trainer
Presenting With Impact
Price: $359.95 $299.95
SAVE $59.95
Read More

Retail Excellence Series®
3 Complete Courseware
Packages in 1
Frontline Retail Selling Skills
Retail Sales Planning & Forecasting
Passionate Retail Experts
Price: $539.855 $349.95
Pay for 2 Get 1 Free
Read More

Sales excellence series®
3 Complete Courseware
Packages in 1
Sales Management
Professional Selling Skills
Sales Territory Planning & Routing
Price: $539.855 $349.95
Pay for 2 Get 1 Free
Read More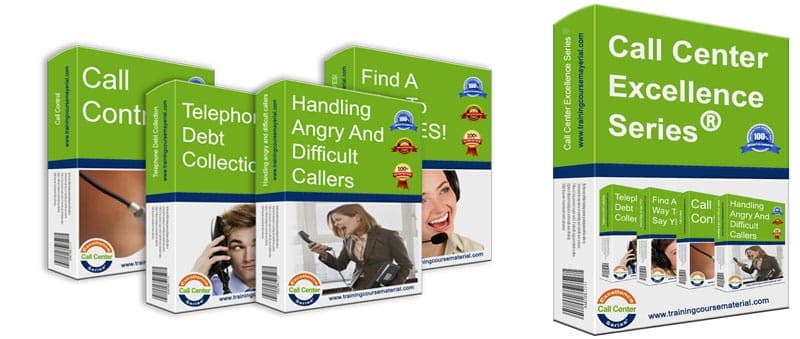 Call Center Excellence Series®
4 Complete Courseware
Packages in 1
Handling angry and difficult callers
Call control
Find a way to say YES!
Successful telephone debt collection
Price: $719.95 $449.95
Pay for 2 programs and Get 2 programs Free
Read More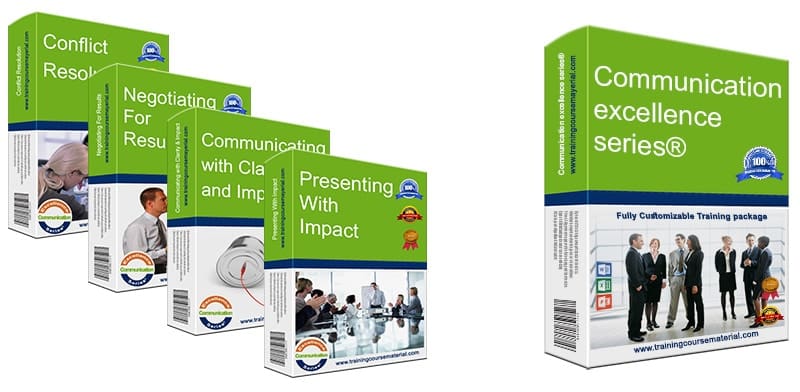 Communication Excellence Series®
4 Complete Courseware
Packages in 1
Communicating with clarity and impact
Negotiating for results
Conflict resolution
Presenting With Impact
Price: $719.95 $449.95
Pay for 2 programs and Get 2 programs Free
Read More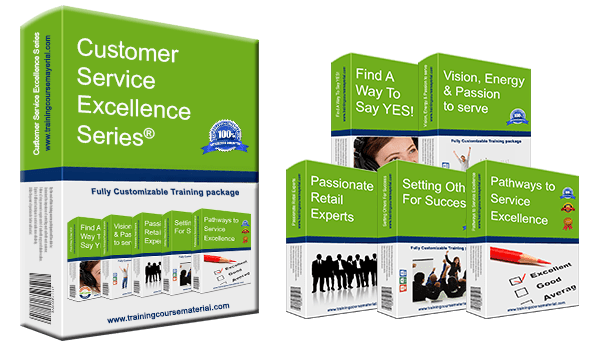 Customer Service Excellence Series®
5 Complete Courseware
Packages in 1
Vision, Energy & Passion To Serve
Pathways to service excellence
Find a way to say YES!
Passionate Retail Experts
Setting others up for success
Price: $899.75 $599.95
Pay for 3 Get 2 Free
Read More
Instant Download
Training packages
All you need
to deliver a great training!
Our training material packages come with all you need to provide
a professional and accelerated learning solution with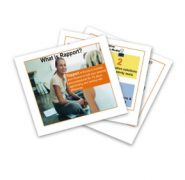 High Impact
Power Point Slide Deck
To support immersive learning, a high impact professionally designed power point slide deck to engage trainees at all levels.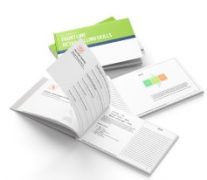 Student
Workbook
A comprehensive reference workbook you can give out to your class participants as a quick future reference.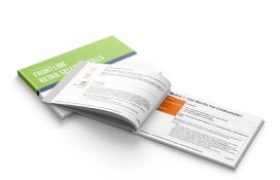 Trainer
Guide
With step-by-step clear directions with tips and suggestions on what to say and how to present each slide.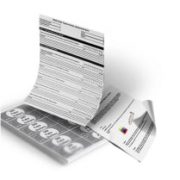 Activity
/Exercise Sheets
Various training material and support documents to help you both explain and debrief the different exercises, activities and games Plus a fun final Jeopardy style review game as a fun ending for your training program.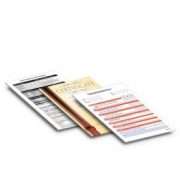 Additional
Support Documents
To ensure you have all you need to deliver a complete and professional training program, additional supporting documents are included with each full course material package. From training evaluation forms to 5 different certificate templates that you can edit and hand out to your participants at the end of your training.
Job Aids
& Forms
Specific forms designed to extend and reinforce the training that participants can utilize back on the job to help them apply the new learned concepts (Select training material packages)
Get all our training Packages
and Save!

Save over $1500 and Get each full program for under $99.00 & 6 Mini Courses free