Human Resources Management
Hits: 7973
If it was based only on resumes then probably most of your candidates are perfect for the job and your predicament would be choosing the best. but back to reality, we all know the real world doesn't work that way, anyone can write an impressive resume but is it all factual ? Lets look at ways to help you read between the lines as well as some red flags to be aware of when evaluating resumes for your potential candidate.
Normally there are two types of resumes usually submitted:
Chronological :
where all the work-related information appears in a timeline sequence

Functional:
where the information appears in various categories (skills, achievements, qualifications, and so on).
Functional resumes are more common and acceptable nowadays although some people believe that candidates who try to hide gaps in their work history usually use functional resumes, some applicants use a combination of both functional and chronological resumes , they show the most important qualifications they have along with a chronological work history as well.
One of the main things to look for is a steady and stable progression into greater responsibility and more important positions although some excellent candidates decide to change career and make the leap to a different path for very good reasons so make sure to discuss any major career changes and be aware of the following points:
Pattern jobs: an indicator of a problem is if a candidate's job history is confined within the same pattern of positions indicating lack of increasing responsibility, promotion or ambition. there are of course some exceptions to this for highly technical and specialized positions.
Vague wording: Beware of vague words like " Partnered with" , "Participated in", " familiar with " if what the candidate is referring to by using these words is a major job skill requirement, make sure you probe that point more, these words suggest that the candidate may or may not have the actual experience he/she is claiming.
Sloppy and unprofessional resume: The resume gives you a first impression of the candidate, so a sloppy and unprofessionally written resume tells you right away that this person lacks professionalism and business experience.
Unexplained gaps in employment history: If you have a well designed application form it can help uncover any hidden gaps , for example if a candidate says he left one job and started another in the same year, make sure to specify months, he could have left the first job in January and joined the other job in December of the same year.
Typos and spelling mistakes: Generally a lot of typos on the resume signifies carelessness which is another red flag to be aware of. Not proofreading a resume or not having someone else do it may be a sign that the candidate isn't conscientious.
Too many hobbies: if you see too many hobbies or out of work activities standing out , this can be an indicator of an applicant who is not really going to be the first to sign up for extra hours or put extra effort voluntarily, he'd rather be out there back with his/her beloved hobby.
Also be aware that series of several jobs in a short timeframe is a clear signal of a problematic or unreliable employee or a chronic job surfer. There is usually a good reason why people leave jobs so make sure you find out why.

34 Full Courses & 6 Mini Courses
Get all available programs
& save ...!!
Price: $4499.95 $2995.95
Great Value For Money
Read More
Are You a
Visual, Auditory or Kinaesthetic ?
How well do you
cope under
pressure? .
Are You A
people person?
.
Forward looking, or
Stuck in a time
warp?
How content
are you?
.
How soft-centred
are you?
.
Find Out
Your Leadership
Style
How
Emotionally intelligent are You ?
| | | |
| --- | --- | --- |
| | + | |
The Presenter-Trainer Package®
Train The Trainer
Presenting With Impact
Price: $359.95 $299.95
SAVE $59.95
Read More

Retail Excellence Series®
3 Complete Courseware
Packages in 1
Frontline Retail Selling Skills
Retail Sales Planning & Forecasting
Passionate Retail Experts
Price: $539.855 $349.95
Pay for 2 Get 1 Free
Read More

Sales excellence series®
3 Complete Courseware
Packages in 1
Sales Management
Professional Selling Skills
Sales Territory Planning & Routing
Price: $539.855 $349.95
Pay for 2 Get 1 Free
Read More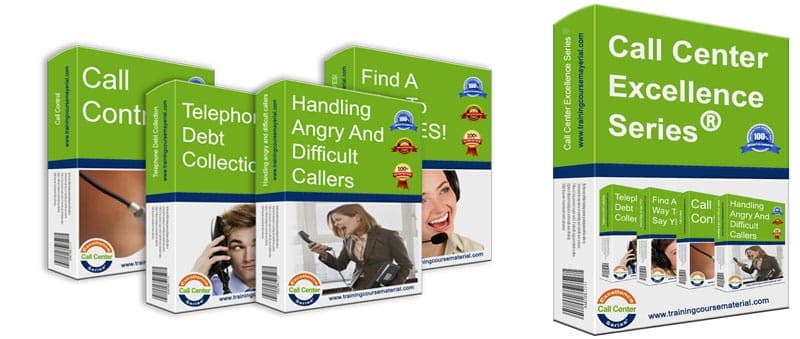 Call Center Excellence Series®
4 Complete Courseware
Packages in 1
Handling angry and difficult callers
Call control
Find a way to say YES!
Successful telephone debt collection
Price: $719.95 $449.95
Pay for 2 programs and Get 2 programs Free
Read More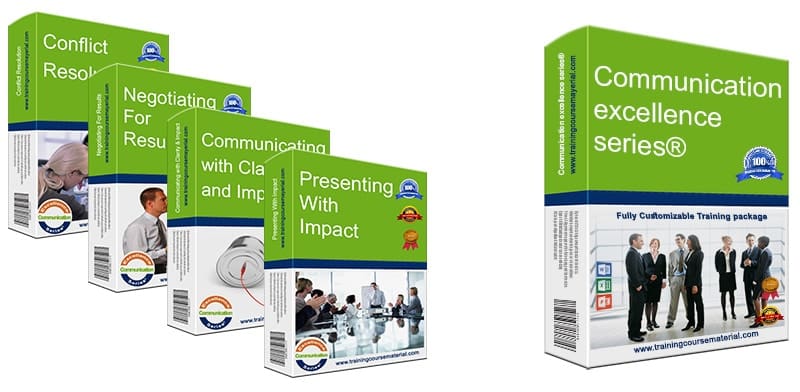 Communication Excellence Series®
4 Complete Courseware
Packages in 1
Communicating with clarity and impact
Negotiating for results
Conflict resolution
Presenting With Impact
Price: $719.95 $449.95
Pay for 2 programs and Get 2 programs Free
Read More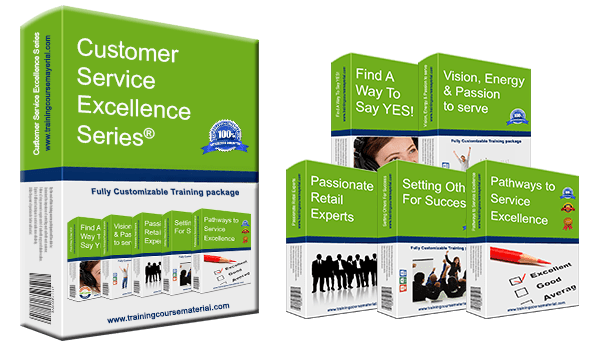 Customer Service Excellence Series®
5 Complete Courseware
Packages in 1
Vision, Energy & Passion To Serve
Pathways to service excellence
Find a way to say YES!
Passionate Retail Experts
Setting others up for success
Price: $899.75 $599.95
Pay for 3 Get 2 Free
Read More
Instant Download
Training packages
All you need
to deliver a great training!
Our training material packages come with all you need to provide
a professional and accelerated learning solution with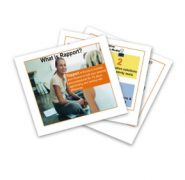 High Impact
Power Point Slide Deck
To support immersive learning, a high impact professionally designed power point slide deck to engage trainees at all levels.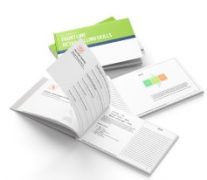 Student
Workbook
A comprehensive reference workbook you can give out to your class participants as a quick future reference.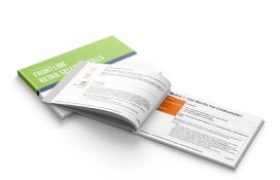 Trainer
Guide
With step-by-step clear directions with tips and suggestions on what to say and how to present each slide.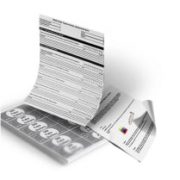 Activity
/Exercise Sheets
Various training material and support documents to help you both explain and debrief the different exercises, activities and games Plus a fun final Jeopardy style review game as a fun ending for your training program.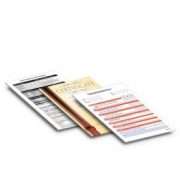 Additional
Support Documents
To ensure you have all you need to deliver a complete and professional training program, additional supporting documents are included with each full course material package. From training evaluation forms to 5 different certificate templates that you can edit and hand out to your participants at the end of your training.
Job Aids
& Forms
Specific forms designed to extend and reinforce the training that participants can utilize back on the job to help them apply the new learned concepts (Select training material packages)
Get all our training Packages
and Save!

Save over $1500 and Get each full program for under $99.00 & 6 Mini Courses free