Human Resources Management
Hits: 7412
The Different Types of Interviews
There are different types of interviews, each providing quite specific types of information, below is an overview of the major,most common types of interviews:
BIOGRAPHICAL INTERVIEW
Biographical interviewing type of questioning aims to explore the candidate's past experiences in a chronological way. Sample biographical questions are :
- "Why did you leave job A and go to Job B ?"
- " What were you doing between ..... and ..... ?"
This type of interview style of questioning is usually used for:
Exploring the reasons why a candidate's career has progressed in the way it has and why they have made important career moves or choices also to clarify a candidate's work experience, knowledge and qualifications.
TECHNICAL INTERVIEW
This interview explores a candidate's technical knowledge, qualifications, experience and skills. Here are two sample questions used in technical interviews:
• What project management techniques have you used?'
• 'What would you use component/system x for?'
This type of interview style of questioning is used for: Exploring whether a candidate is capable of performing the job to the desired technical level or what training or support they might require if appointed
COMPETENCY OR BEHAVIOURAL INTERVIEW
Known to be one of the most effective interviewing methods, behavioral or competency based interviewing focuses on finding out specific competencies or behaviors the candidate did in the past in specific work related situations that would allow you to predict his/her actions in the new job. And is also used to explore a candidate's particular behaviors or abilities.. some sample behavioral based questions are: The following question relates to the competency of problem solving & team working:
• 'Tell me about a time you helped out some colleagues who were facing a particularly difficult problem.'
Depending upon the candidate's response, some useful follow-up (called 'probing') questions are:
• 'What part did you play specifically?'
• 'What happened next?'
• 'What was the final outcome?'
This style of interviewing questions is used for exploring how a person's skills, gained from handling situations in the past, would transfer to the new job.
SITUATIONAL INTERVIEW
In situational interviews, you ask hypothetically-based questions, exploring how someone might do a job if appointed. Here are some sample questions to clarify further: -A customer has just rung in, very angrily complaining about the service they received from one of your sales staff. What steps would you take?'
This type of questioning is used for Exploring how a person might do a job: this can be useful when their experience is relatively 'untried' in that particular area and also Seeing how a candidate's existing knowledge or experience could be applied to handle future issues or problems.
There is a danger with these sort of questions that a candidate may answer in a theoretical way – rather than what they would really do. If in doubt, use competency/behavioural interview questions alongside situational questions to explore how they have actually dealt with related situations in the past.

34 Full Courses & 6 Mini Courses
Get all available programs
& save ...!!
Price: $4499.95 $2995.95
Great Value For Money
Read More
Are You a
Visual, Auditory or Kinaesthetic ?
How well do you
cope under
pressure? .
Are You A
people person?
.
Forward looking, or
Stuck in a time
warp?
How content
are you?
.
How soft-centred
are you?
.
Find Out
Your Leadership
Style
How
Emotionally intelligent are You ?
| | | |
| --- | --- | --- |
| | + | |
The Presenter-Trainer Package®
Train The Trainer
Presenting With Impact
Price: $359.95 $299.95
SAVE $59.95
Read More

Retail Excellence Series®
3 Complete Courseware
Packages in 1
Frontline Retail Selling Skills
Retail Sales Planning & Forecasting
Passionate Retail Experts
Price: $539.855 $349.95
Pay for 2 Get 1 Free
Read More

Sales excellence series®
3 Complete Courseware
Packages in 1
Sales Management
Professional Selling Skills
Sales Territory Planning & Routing
Price: $539.855 $349.95
Pay for 2 Get 1 Free
Read More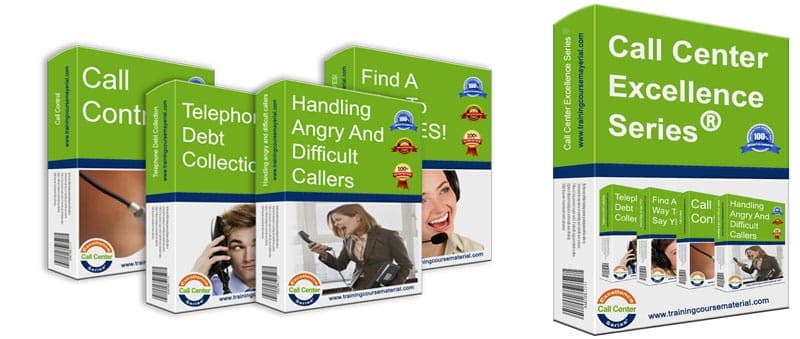 Call Center Excellence Series®
4 Complete Courseware
Packages in 1
Handling angry and difficult callers
Call control
Find a way to say YES!
Successful telephone debt collection
Price: $719.95 $449.95
Pay for 2 programs and Get 2 programs Free
Read More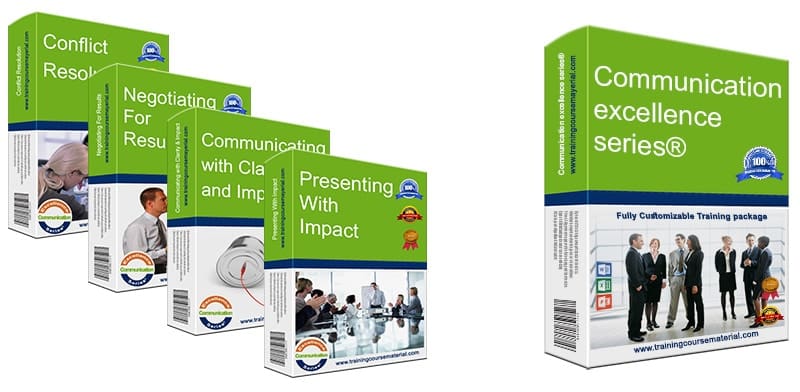 Communication Excellence Series®
4 Complete Courseware
Packages in 1
Communicating with clarity and impact
Negotiating for results
Conflict resolution
Presenting With Impact
Price: $719.95 $449.95
Pay for 2 programs and Get 2 programs Free
Read More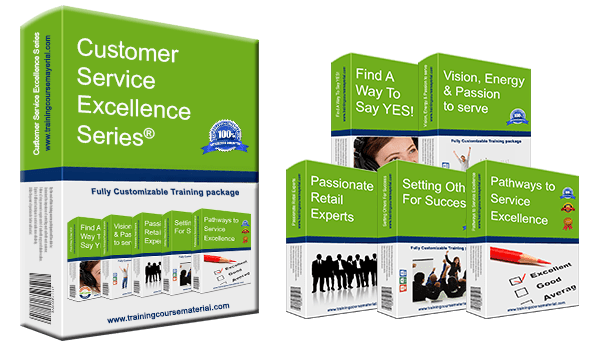 Customer Service Excellence Series®
5 Complete Courseware
Packages in 1
Vision, Energy & Passion To Serve
Pathways to service excellence
Find a way to say YES!
Passionate Retail Experts
Setting others up for success
Price: $899.75 $599.95
Pay for 3 Get 2 Free
Read More
Instant Download
Training packages
All you need
to deliver a great training!
Our training material packages come with all you need to provide
a professional and accelerated learning solution with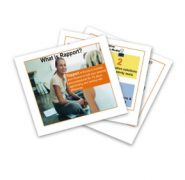 High Impact
Power Point Slide Deck
To support immersive learning, a high impact professionally designed power point slide deck to engage trainees at all levels.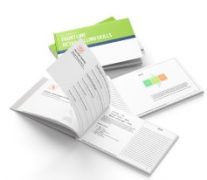 Student
Workbook
A comprehensive reference workbook you can give out to your class participants as a quick future reference.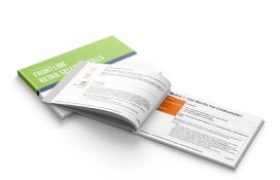 Trainer
Guide
With step-by-step clear directions with tips and suggestions on what to say and how to present each slide.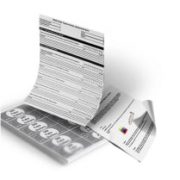 Activity
/Exercise Sheets
Various training material and support documents to help you both explain and debrief the different exercises, activities and games Plus a fun final Jeopardy style review game as a fun ending for your training program.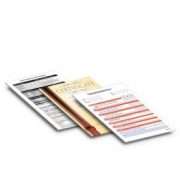 Additional
Support Documents
To ensure you have all you need to deliver a complete and professional training program, additional supporting documents are included with each full course material package. From training evaluation forms to 5 different certificate templates that you can edit and hand out to your participants at the end of your training.
Job Aids
& Forms
Specific forms designed to extend and reinforce the training that participants can utilize back on the job to help them apply the new learned concepts (Select training material packages)
Get all our training Packages
and Save!

Save over $1500 and Get each full program for under $99.00 & 6 Mini Courses free